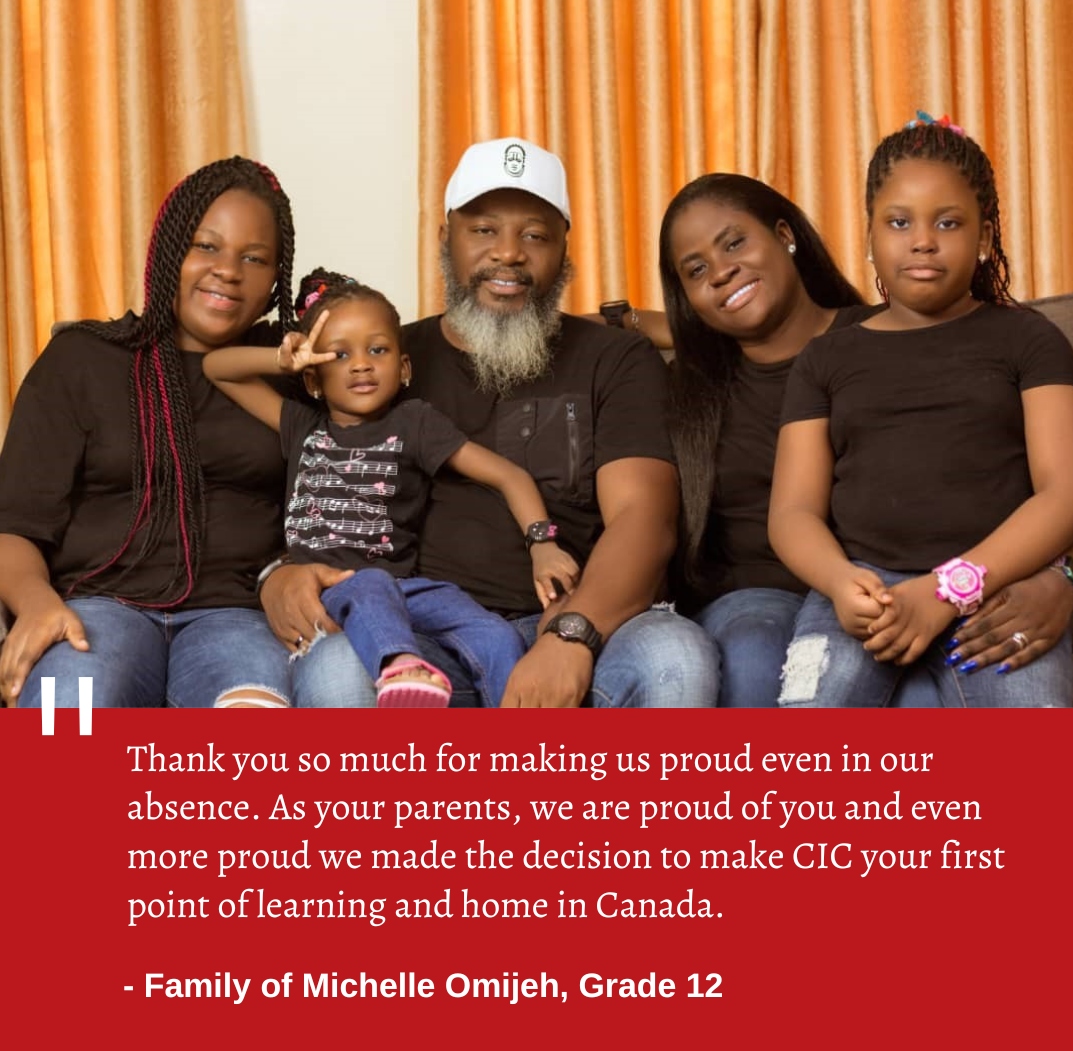 We feel immensely honored to share the heartfelt words of appreciation from the family of Michelle Omijeh (1st from left) , Grade 12 student who received the character award for "always putting others before herself" and "using her talent and knowledge to help others."
Michelle's parents were super excited to attend the virtual ceremony and the smiles on their faces said it all.
CIC Total Care team is proud to have partnered with parents to develop numerous young children into adults who possess positive character traits. We are grateful to students' families for their unflinching trust and valuable feedback.
Michelle's mother:
"I almost cannot contain the joy! When Michelle got the admission into CIC, at the point we received her acceptance letter, I took a quick journey to your Instagram page and I loved what I saw. I was happy to see other students doing the school so proud and how much effort the school also puts in appreciating and rewarding them …

I remember saying to myself, I do wish this for my daughter too. I hope I have raised a daughter that would come close to getting a feature on this page because I knew whatever it would be, she would only get in there for a good reason.

It's a feat for Michelle to be featured on the school pages /social media. It looks easy, but getting there isn't as easy and I would want Michelle to always look back at that and know she did well. She represented us well enough to earn that! It will also be a sound reminder to her that she can't afford to fall short of her goals and expectations.

A big thanks to the Principal and staff of CIC for steadily helping the students unlock every hidden potential – everything. She has and exceeded expectations.

Thanks to Ms. Melisa Zhang for finding Michelle worthy to be a recipient of this award .Our sincere appreciations.

Also want to express gratitude to Ms. Priscilla Tamaklo who has been super helpful during every registrations and consultations leading up to this moment.

Michelle, thank you so much for making us proud even in our absence. As your parents, we are proud of you and even more proud we made the decision to make CIC your first point of learning and home in Canada.

We will forever be grateful to the CIC team for grooming my teenage daughter into a young outspoken sweet lady.