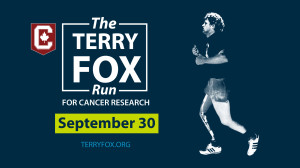 Next week Columbia students will be taking part in the school's annual Terry Fox Walk-a-thon.
On September 30th, students will walk from Hamilton's Pier 4 to the Ainsliewood building to honour Terry and to raise funds for cancer research. In participating, students learn about Terry Fox and his journey,  and gain a better understanding of the importance of helping others and perseverance.
Last year Columbia raised over $23,086.73 and is hoping to exceed that amount this year.
Columbia and the Terry Fox Run
Columbia's school community is committed to working together to end cancer. For over 30 years Columbia has participated in the Terry Fox Run and is proud to be only 1 of 6 schools in the world to have achieved this. Since 1980, Columbia has raised $139,892.84.