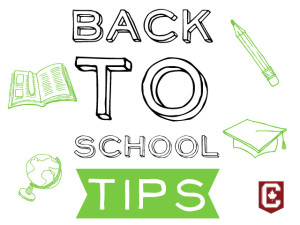 Columbia is excited to welcome students back to its campus next week as fall 2015 classes resume on August 17. To help students get a head start on the new school year, here are some useful back to school tips:
1. Ask questions. For many students entering a new school can be intimidating. The best way to learn your way around school and the city is to ask questions. Remember that teachers, staff and fellow students are all here to help you.
2. Stay organized. Use our mobile app to set and keep track of important dates, events, and assignment due dates.
3. Get involved. Joining school clubs and activities is the best part of school! Becoming a member of the school community is a great way to meet new people, develop your interests and have fun.
4. Balance work and fun. Balancing academics with and extracurricular activities is vital to your well-being. While this can be challenging, it ensures you develop into a well rounded students and makes learning fun!
5. Stay healthy. Eating well is important to your overall well-being. Don't skip meals. Sodexo is here to help you stay healthy and prepares nutritious and delicious meals daily.
6. Meet your support team. Get to know your Liaison Officer, Guidance Counsellor University, Placement Counsellor, Residence Staff and other members of the support team. They are here to help you succeed so it's important you form a good relationship with them.
7. Set goals. Stay positive. School can be overwhelming at times. It is important to stay focused on your goals and maintain a positive attitude. Remember that you are working towards these goals and your hard work will pay off in the future.