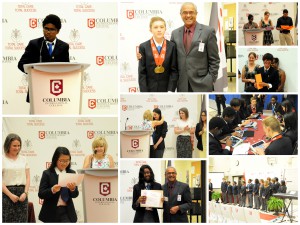 Columbia honoured its Junior Middle School (JMS) students on June 18th during the annual Year End Awards Ceremony.
The Ceremony highlighted the students' accomplishments from the past year and recognized those who excelled in both academics and extracurriculars. Along with receiving their Certificates of Completion, students were also presented with Residence Certificates.
Top Subject Prizes, Young Global Citizen Certificates and Scholarships were awarded to the following students:
Award
Recipient(s)
Global Citizen Award
Li Khen Ir, Nelly Chisom Okwu-Wolu
Scholarships
Danylo Grechko – $1000
Daye Fubara – $1000
Elizaveta Golova – $1000
Aliyah Omotola Jimoh – $1000
Lai Leixi – $1500
Li Khen Ir – $1000
Top Subject Prize
Danylo Grechko (Gr.7) – Literacy/Social Justice, Physical Education, Computers, Science, Geography
Nelly Chisom Okwu – Wolu (Gr.7)– Language Arts-English, Art
Mariia Petrenko (Gr.7)– Math, French, Music, Drama
Elizaveta Golova (Gr. 8) – Physical Education, Art
Kimberly Lai Leixi (Gr. 8)– French, Computers,
Geography, Language Arts-English, Music
Sasha Li Khen Ir (Gr. 8)– Literacy/Social Justice, Math, Science, Drama
Alumni Address
A special addition to this year's ceremony was an address by a JMS alumna.Arina Aminova, a current grade 12 student, addressed students, staff and guests and recounted how her JMS experience positively impacted her social and academic growth and prepared her for high school. She encouraged students to try new experiences and to enjoy their time at Columbia as time will pass faster than they imagine.
Vote of Thanks
Student Daye Fubara was chosen by his peers to deliver this year's Vote of Thanks. He thanked all staff members who cared for the JMS students during their time at Columbia including houseparents, teachers, support staff and the Sodexo team. He was honoured to speak on behalf of the class and thanked Columbia for allowing students to have great opportunities.
A special thank you to Ms. Garell-Teti, Ms. Cathy Fisher, and the JMS Stafffor their work in organizing the ceremony. A special thank you to theMaintenance and IT teams for their hard work and to Mr. Lawlis and his Vocal Music class for their contributions. Thank you also to Sodexo for their services during the reception.
Congratulations to the 2014/2015 JMS class:
Grade 7
Danylo Grechko
Amy Huang Tingting
Favour Oluwatofunmi Kolade
Anna Ebinyo Kuku
Nelly Chisom Okwu – Wolu
Mariia Petrenko
Viktoriya Petrova
Daria Volkova
Grade 8 
Daphne Chantal Arko – Dadzie
Nikolay Avilov
Cheng Tsz Yin Kelly
Djoulde – Joujou Diaw
Uzoma Adaora Ekpunobi
Daye Fubara
Elizaveta Golova
Mark Guo Zhenhui
Aliyah Omotola Jimoh
Mirabelle Ayebiamiete Ifa Kuku
Kimberly Lai Leixi
Sasha Li Khen Ir
Joshua Onuotu
Eason Yang Yixin
Maryam Yusuf – Aliyu
Jasmine Zhang Xuanhe
We hope to see you again next semester!