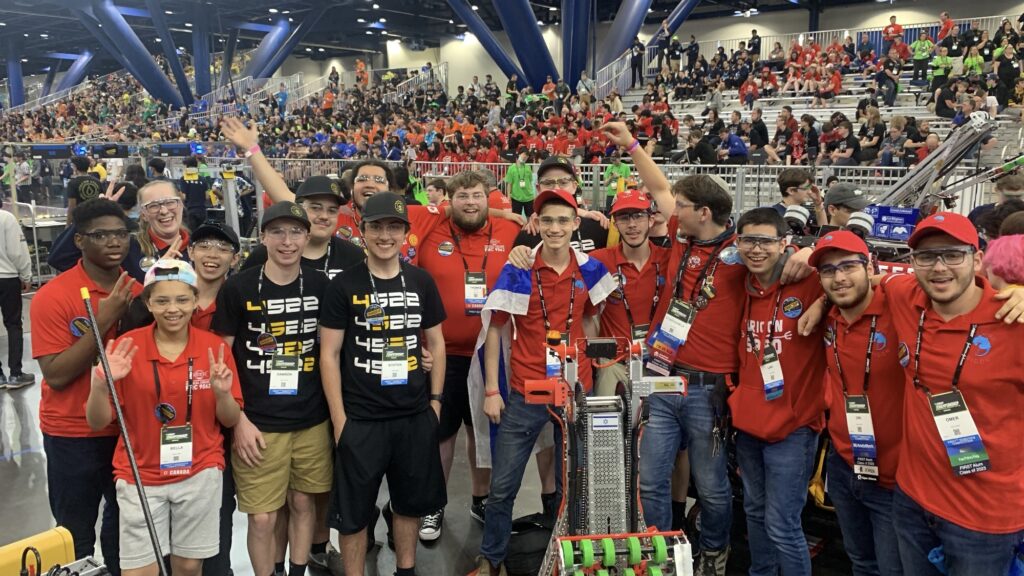 At the FIRST Robotics Competition World Championship in Houston, from April 19-22, Team 9062: Critical Circuits, CIC's rookie robotics team, competed against many of the most successful clubs in the world! Our little robot went 2-8-0 in the qualifying rounds, placing 72nd in our division!
Exciting highlights of the robotics tournament included looking at other teams and understanding their design process, meeting teams from different regions, and learning from the best robot builders in the world. Our team was also present during the Einstein Field Finals and cheered on a Canadian team from Guelph as they were crowned world champions.
Thomas Steele, CIC Computer Engineering Technology instructor and coach for the robotics team, is very happy with what the team has accomplished. "We have learned a lot from this trip, including fundraising and mentorship advice. Being good at one objective is a better strategy than trying to do everything. And in the face of adversity, we are able to rely on the kindness of others in the program locally and abroad. We now aim to raise funds to better support the robotics team as we transition towards a more self-sustaining business model," he said.
Leanne Pecarski also coaches CIC students in robotics and 3D printing. She is proud that students have been able to learn new skills in technology, design, coding, mechanical construction, electrical engineering, partnerships, business planning, leadership, communication, networking, scouting, and data management.
"Additionally, students have had the opportunity to explore and grow by visiting Ontario universities such as McMaster, Waterloo, and Western, participating in volunteering opportunities, and connecting with other Ontario students, mentors, industry professionals, and university representatives," said Leanne.
Team 9062: Critical Circuits would like to thank our coaches, mentors, students, and supporters for assisting us along the way and cheering us on at the Houston Texas World Championship.