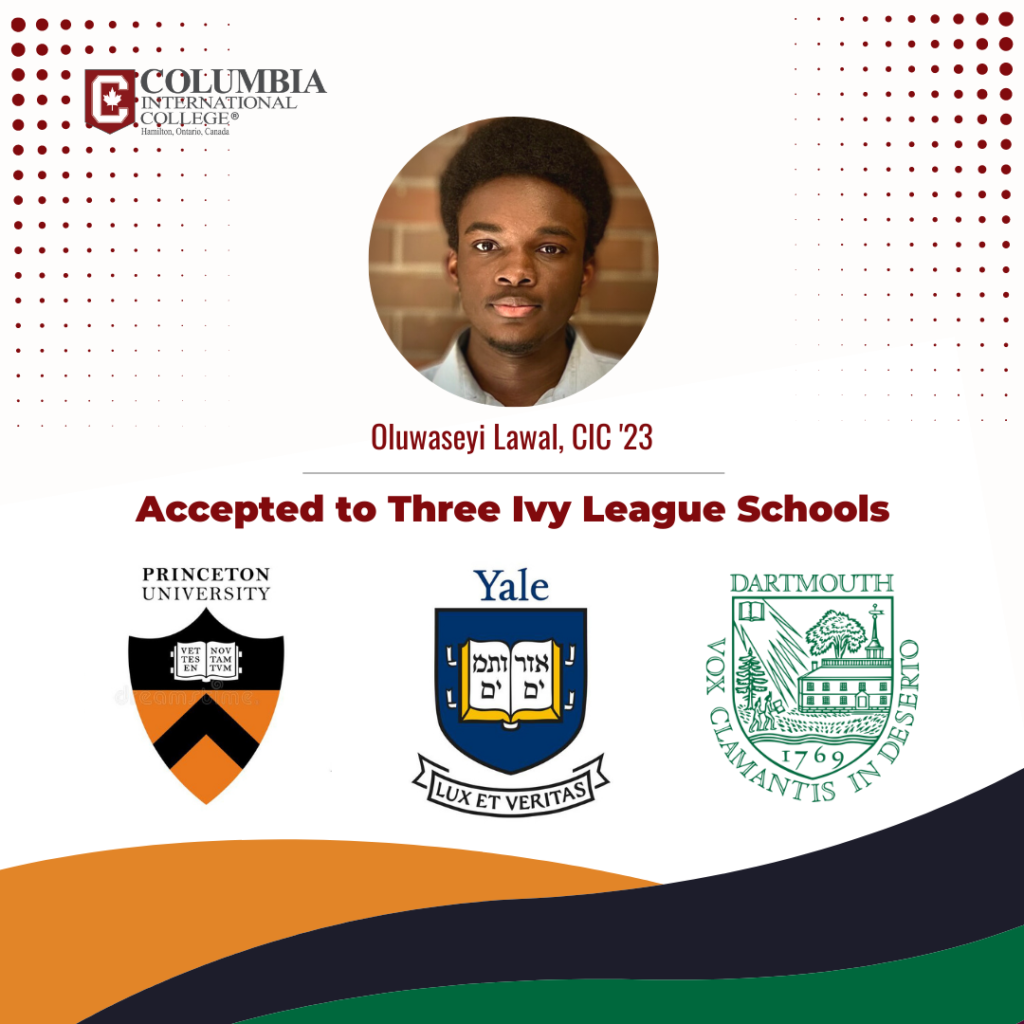 Oluwaseyi Lawal, CIC '23 from Nigeria, has received acceptance letters from not just one, but three prestigious Ivy League schools. Huge Congratulations!
Lawal has also been accepted to other renowned universities across Canada and the United States:
✏️ What inspires you to aim so high?
Until grade 9 I didn't have any clear direction or target. The realization that time isn't going any slower hit me and I began to put my energy into more constructive things. One of the main goals I was working towards was attending an Ivy League institution because of their global reputation. I was eager to attend because they were the best in the world and I wanted to attend the best.
My father has been a constant source of inspiration and support throughout the entire process. When I first expressed my interest in the Ivy League, he provided me with encouragement and assistance every step of the way.
My younger brother also constantly motivates me to work even harder toward my goals. I want to provide my brother with the support and care he deserves. His disability puts him at a disadvantage so I work towards eliminating the barriers not just for him but for people with disabilities worldwide. I also aim to be able to support him financially long-term.
✏️ What's your recipe for success?
I would say that there's no one method that works for everybody. It's all about knowing what you want and the goals you want to achieve and chasing after them relentlessly. I've been pursuing my passions to the best of my ability and am driven by a sense of curiosity and a fond desire to learn and grow in all aspects of my life.
I have learned to take full advantage of the resources and opportunities available, exploring my diverse interests while staying focused on my direction and holding on to sources of motivation for constant encouragement to continue going.
At the end of the day it's not about what university you go to. Going to prestigious universities does not determine your likelihood of success. It's all about how effectively you utilize the resources in front of you and how much you make out of what you have,
✏️ Have you chosen which university to go to?
I haven't officially made my decision yet, but I'm leaning towards Yale because it has a nice environment, very strong programs and it's relatively close to New York City. However, because I intend to start my business in Canada and my long-term career goals are within Canada, I am contemplating whether to stay here and, after a few years, do my MBA in the US.