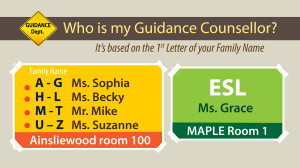 All registered students for the fall semester (201405) can make course changes at the Guidance office until August 5th.
Please note that returning students will not be able to meet their counsellors during orientation days from August 6th – 14th.
Returning students are requested to attend all their classes on the first day of school and will not be permitted to make any course changes on the first day.
Teacher changes and period changes are not allowed. All other changes will be made as per the Course Change Policy.
Contact your Guidance Counsellor in the Guidance Office or via e-mail before August 5th to make necessary changes to your study plan.
Ms. Sophia (A – G)
counsellor.3@cic-totalcare.com
Ms. Becky (H – L) 
counsellor.6@cic-totalcare.com
Mr. Mike (M – T)
counsellor.5@cic-totalcare.com
Ms. Suzanne (U – Z) 
counsellor.2@cic-totalcare.com
Ms. Grace (ESL) 
counsellor.4@cic-totalcare.com