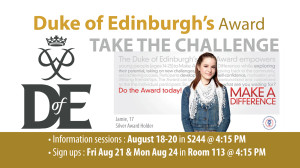 Are you looking for a challenging and unique opportunity? Do you want to achieve personal goals in community service, skills, fitness, and adventure? If so, consider participating in the Duke of Edinburgh Bronze Level Award program.
What is the Duke of Edinburgh Award Program?
The Award Program encourages personal development and community involvement for young people aged 14-24. It strives to teach responsibility and commitment while fostering personal development and is composed of four components:
• Service (helping people in the community)
• Skills (covering almost any hobby, skill or interest)
• Physical Recreation (sport, dance and fitness)
• Expeditions (training, planning and completing a journey on foot or horseback, by boat or bike)
Students who are interested in the program should attend an information session given by the Student Development department. Sign up for the program will begin on August 21, 2015.
Information Sessions
Dates: August 18-20
Location: S244
Time: 4:15 p.m.
Sign up
Dates: August 21 &24
Location: Room 113
Time: 4:15 p.m.
To learn more visit the Student Development Office or visit the Duke of Edinburgh website.