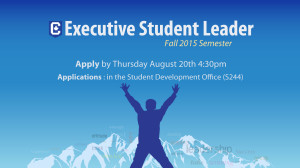 Columbia International College is looking for a dynamic group of students who are interested in playing a vital role in the school community to fill Executive Student Leadership roles.
Members of the Executive Student Leadership team will be responsible for promoting character and leadership throughout the school.
They will work together to enhance the student experience, the school community and promote school pride. Executive Student Leaders will also:
• work with the Student Development Staff
• plan and run activities in the school
• help make positive changes for the school body
• receive leadership training
• receive community service hours for their work
Apply today!
Applications are available from Ms. Melissa in the Student Development Office (S244) and must be submitted by 4:30 p.m. today. Students wishing to gain leadership experience and those looking for unique learning experiences while having fun are encouraged to apply.
Visit Ms. Courtney in S244 for more information.