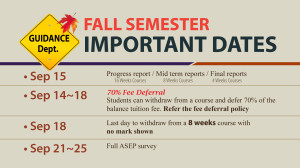 The Guidance Department is reminding students of important upcoming dates in September and October:
September
15 – Progress Report /Mid Term Reports / Final Reports
14-18 (70% Fee Deferral )-Students can withdraw from a course and defer 70% of the balance tuition fee. Refer the fee deferral policy.
18 – Last day to withdraw from a 8-week course with no mark shown.
21-25 – Full ASEP Survey
October
9 – Final exam for 4-week and 8 week students (ESL & Academic).
13 & 14 – Orientation and registration for new students.
For more information, students should contact their Guidance Counsellor or visit the Guidance Office.