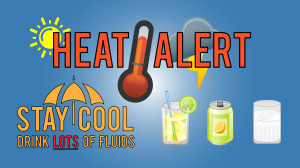 A Heat Advisory has been issued for the City of Hamilton as daytime temperatures remain in the low to mid thirties. With the humidex, temperatures can reach forty degrees Celsius making it difficult to spend too much time outdoors.
To reduce your risk of heat-related illness, the City recommends you:
• Drink lots of water
• Wear a hat and lightweight clothing
• Limit physical activity during the day
• Spend time in air-conditioned locations
Residents are also encouraged to visit indoor and outdoor pools as well as a number of 'cool places' located throughout the City. For their hours of operation, locations and more information visit www.hamilton.ca/heat.
Heat advisories are officially declared by city officials and are issued when temperatures reach 40+ degrees Celsius with the humidex. More information on heat alerts can be found by visiting the City of Hamilton.