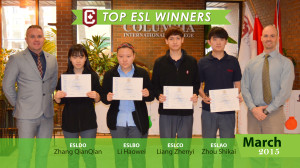 Earlier this week, four ESL students were rewarded for their hard work and perseverance as they were presented with Class Honours certificates in their respective ESL courses.
In a special ceremony, Mr. Galea, ESL Department Head, and Mr. Putt, Head of Senior School, congratulated each top achieving student on their accomplishments and wished them the best of luck as they pursue their English studies.
The March ESL top achievers were:
• Zhou, Shikai– ESLAO
• Li, Haowei– ESLBO
• Liang, Zhenyi– ESLCO
• Zhang, QianQian – ESLDO
Secrets to Success
Each month students are asked to share their personal "secrets to success." What does it take to become a top achiever? Here's the advice from of our winners:
Zhou, Shikai – "I practice English every day. I talk to others to improve my English."
Li, Haowei – "I review notes every day, I finish my homework on time and I go to tutoring every day."
Liang, Zhenyi – "I do my homework every day and practice speaking."
Zhang, QianQian – "Doing my homework on time, listening to the teacher in class."
Congratulations to all winners!