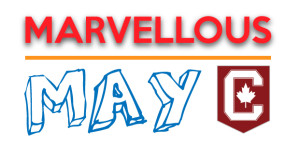 Happy May!
Whether you're graduating or beginning your first semester at Columbia, May is an exciting month for all. Here are a few events happening this month:
May
1: Avengers movie trip
2: Hamilton Victory Gardens community service event
2-3: Stress buster activities
6-12: Final Exams
9: Pine Hall patio party, Ripley's Aquarium
9-10: Stress buster activities
11-13: Residence check-in for new students
13: Final Report Cards
14: Graduation Ceremony, trip to Niagara Falls for new students
14-15: Registration and orientation for new students
16: Ripley's Moving Theatre trip
18: Victoria Day – Canadian Statutory Holiday
19: Classes begin (Summer Semester)
22: Mapleview mall trip
23: 1st Inaugural CIC Video Game Championship
29: Pine Hall Bird's of Prey show
30: Toronto Zoo and Laser Tag trips, Mac Kids Walk & Wheel for Miracles community service event
31: Great Strides Walk™ for Cystic Fibrosis Canada community service event
For more event information, contact a member of the Student Development team in Room S244.