Movembe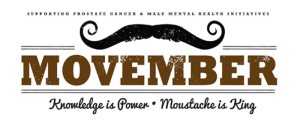 r is back at Columbia International College!
Throughout the month of November, Columbia's staff and students will be joining forces to participate in Movember – a campaign which raises funds and awareness for men's health issues, including prostate and testicular cancer, mental health, and physical inactivity.
What is CIC doing?
The SOCS team (Students on Campus Serving) will be organizing this year's campaign and will be encouraging all staff and students to get involved throughout the month of November. Look for fundraising events and activities around the school to support the Movember campaign.
Moustache competition
Students and staff can participate in Columbia's Movember moustache competition. Students will be able vote for the best 'stache at CIC and a winner will be announced at the end of the month.  Those participating should visit Student Development to have their 'before' picture taken.
More information regarding the school's Movember campaign and events can be found in Student Development, room S244.
About Movember
Since beginning in Australia in 2003, over 800 Movember campaigns in 21 countries have raised $574 million for men's health issues, particularly prostate cancer and male mental health issues. To find out more about this creative campaign, visit the official Movember Canada page.