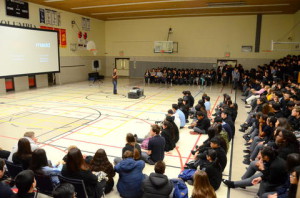 This morning, Columbia International College students were warned of the dangers of impaired driving as they attended a special Mothers Against Drunk Driving (MADD) assembly.
Students from grades 9 to 12, as well as those in the ESL program, attended one of two morning sessions in the Ainsliewood gym. Designed to educate students on the risks of impaired driving, the assembly highlighted popular misconceptions about impaired driving, emphasized the importance of driving responsibly, and provided students with key information needed to protect themselves from the risks of impaired driving.
The presentation also featured a powerful 45 minute video that included interviews with family and friends of real-life impaired driving victims. The video, entitled Aftermath, is being shown to students across Ontario and is a collaboration project between MADD Canada and the LCBO as they continue to work together to educate the public about the risks associated with impaired driving.
As impaired driving is an important issue that affects us all, Columbia is pleased to have MADD Canada speak to our students each year. Columbia proudly supports MADD Canada and would like to thank the organization for educating students across the country on this very important issue.
Know the FACTS 
• Impaired driving is one of the leading causes of death in Canada and North America.
• Impaired driving kills 4 Canadians and injures 175 others every day in Canada.
• Approximately 63,000 Canadians are impacted by impaired drivers annually.
• Young drinking drivers are most likely to be killed or injured in the summer (32.4% and 40.8% respectively) and least likely to be killed or injured in the winter (8% and 11.4% respectively).
• A large percentage of young drinking drivers die or are seriously injured on the weekend.
• 12 p.m. – 4 a.m. is when most impaired driving accidents occur
MADD Canada
MADD Canada is a non-profit organization dedicated to stopping impaired driving and helping its victims. It formed in early 1980's and now has 100 local chapters across the country. To learn more about the organization and its mission please visit madd.ca.