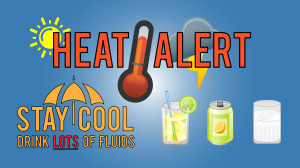 As temperatures across the greater Toronto and Hamilton area begin to rise, Columbia wants to ensure that its school community practices safe sun and heat habits.
With rising temperatures and increased humidity, temperatures can reach the high 30's and the humidity can make outside temperatures feel like 40+ degrees Celsius.
To beat the heat, we want to share some tips (courtesy of Health Canada) with our students and future summer campers to ensure that they are well-prepared for a summer in Ontario.
• Drink lots of water
• Wear a hat and lightweight clothing
• Limit physical activity during the day
• Spend time in air-conditioned locations
We hope everyone has a safe and enjoyable summer!