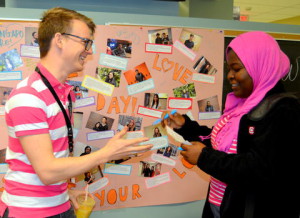 Columbia's students and staff showed their support towards anti-bullying as they participated in Pink Shirt Day.
The international campaign is celebrated across the world and is designed to put an end to all forms of bullying, as well as raise awareness for those who are victimized by bullying. By wearing pink, Columbia's school community pledged their commitment to stopping bullying and to standing up for those they see being mistreated.
Columbia is pleased to support this worth cause as the values of Pink Shirt Day align with the values and morals Columbia instills in its students. We are a school of character that promotes kindness, integrity, respect for others, inclusiveness, fairness and caring. All members of our school and residence community are committed to showing these character attributes every day.
Origins of Pink Shirt Day
The International Day of Pink / Pink Shirt Day campaign began in Nova Scotia in 2007. Two students intervened when a classmate was being bullied for wearing a pink shirt. They then bought pink shirts for everyone at school to wear as a symbol of solidarity and unity. To learn more visit dayofpink.org.