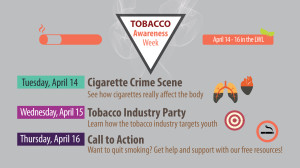 Almost 40,000 people in Canada will die this year from smoking. Columbia's Health Action Team is on a mission to reduce this number by educating their peers on the dangers of smoking and effects of tobacco.
This week, Columbia's Health Action Team will be in the Living Wall Lounge promoting a smoke-free environment. Along with raising awareness about the health risks associated with smoking, the team will highlight the secrets of the tobacco industry and discourage their peers from using cigarettes.
Featured topics:
Tuesday, April 14 – Cigarette Crime Scene
• Students will see how cigarettes affect the body with real life examples.
Wednesday, April 15 – Tobacco Industry Party
• Students will learn how the tobacco industry targets youth, a documentary will be shown.
Thursday, April 16 – Call to Action
• Using technology, students will see how smoking will age them.
• Those wishing to quit will learn about the resources and support available.
The purpose of the tobacco awareness campaign is to engage students in conversation about the health risks of smoking tobacco as well as educate them on the tobacco industry. The team also wants to ensure that students never start smoking and wishes to provide help, support and encouragement to those wanting to quit. To learn more about tobacco, visit the Student Development Office, room S244.
Promoting healthy living is among the many values Columbia's Total Care Education System® instills in students. Tobacco awareness week is one of many initiatives designed to promote and encourage a healthy lifestyle.