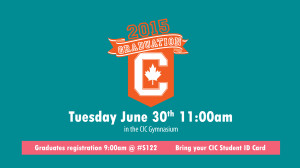 In just a few days Columbia will celebrate its second graduation ceremony of the year. We are looking forward to welcoming close to 100 parents and guests who will join us to share this special occasion. The ceremony will take place in the Ainsliewood Gym at 11 am and will be followed by a reception in the Living Wall Lounge at 12:30 pm.
Below is the June graduation ceremony itinerary for those interested in learning more;
8-8:45am – Breakfast in residence
8:45am – Buses will depart residence. Students living outside of residence are responsible for their own transportation to school.
9-9:45am – Arrival at Ainsliewood for registration and gown pick-up.
9:45-10:45am – Graduation rehearsal in the Student Cafe
10:15-10:45am – Parent and Guest arrival
10:45am – Graduates line up for procession
11am–12:30pm – Graduation ceremony in the gym
12:30-1:30pm – Reception in the Living Wall Lounge
1-4pm – Graduation package pick-up in UPO (Student I.D. is required)
1:30 & 2:30pm – Buses return to residence
We hope to see you there!