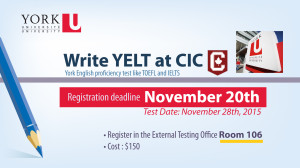 The YELT test – York English Language Test – is coming to CIC!
On November 28, York University will administer the YELT test at Columbia. The test will determine if those applying to York will require additional ESL courses when they begin their first year of study.  The test will assess English reading and writing comprehension as well as English speaking skills at the university level. The two part test includes written and oral components.
Students interested in applying to York University are strongly encouraged to write the test.
To learn more about, visit the website.
 Registration
Students can register by visiting the External Testing Office located in room 106 of the Ainsliewood building.  The test fee is $150 and the registration deadline is November 20.
External Testing Office
Columbia International College's External Testing Office administers numerous English proficiency tests throughout the year. As an officially certified testing centre, Columbia students can conveniently write an English proficiency test on campus. Test sessions occur throughout the year with each session accommodating 50-100 students. Pre-registration is required.