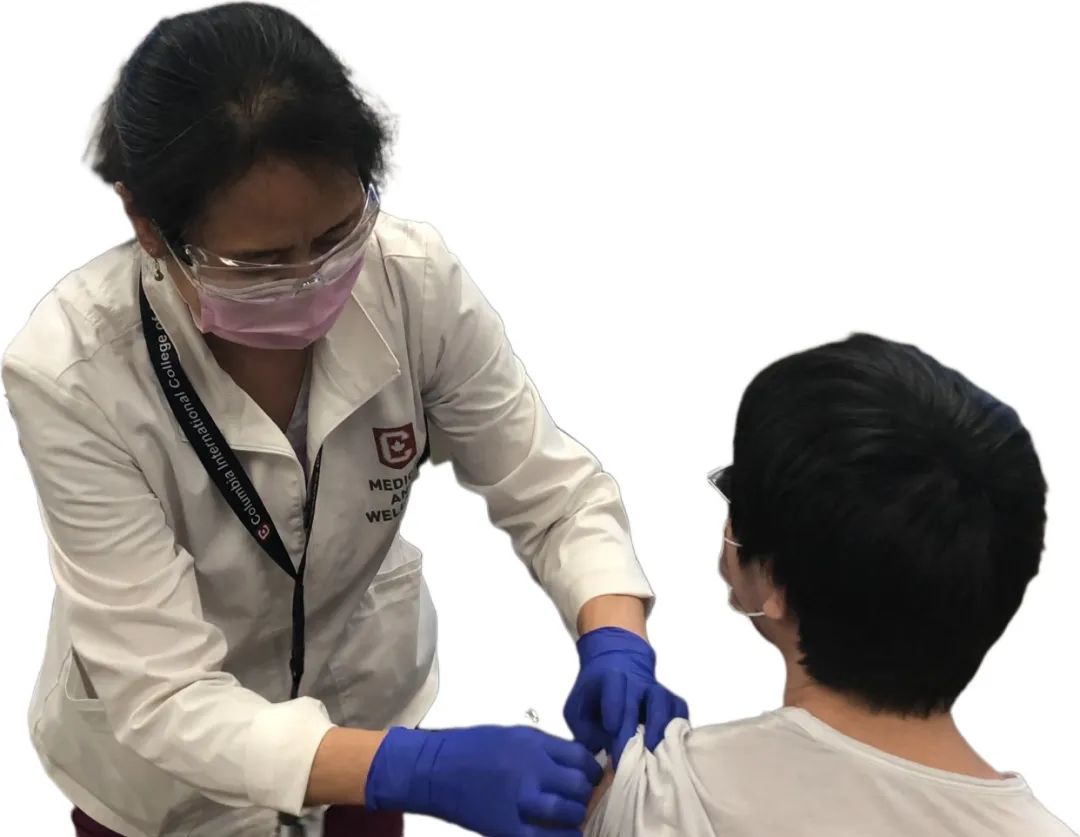 Ontario reports its lowest COVID-19 new case numbers in more than ten months as Canada accelerates vaccination having over 78.6% of the eligible population vaccinated (as of July 23, 2021) with one dose and over 50% fully vaccinated. 
The country and provinces are easing COVID restrictions.The province's "Roadmap to Reopen" Step Three began on Friday, July 16t, a few days earlier than expected due to the successful vaccine rollout and ongoing improvements in public health trends. 
Step Three Reopening includes: 
Gyms, Sport facilities, Museums, and Movie Theatres can reopen with 50% capacity indoors

 

Outdoor gatherings and public events of up to 

100

 people

 

Indoor social gathering and events with up to 

25

 people

 

Retail stores can open to capacity limit that allows for social distancing

 
Hamilton Has Walk-in Vaccination Clinics and 
Lowest COVID Case Numbers
Hamilton residents do not need to book their vaccine appointment in the Mass Vaccination Clinics in the city, as they are now offering walk-ins for the first dose. The measure provides a boost to vaccination rates and increased accessibility to the vaccine for Hamiltonians. Additionally, the increase of the vaccine coverage helps to prevent the spread of the delta variant. 
As of July 19, the vaccination progress for those with at least one dose of the Covid-19 vaccine in Hamilton is 76% of the population 18 years old or older.  
An impressive 60% of this population group is fully vaccinated.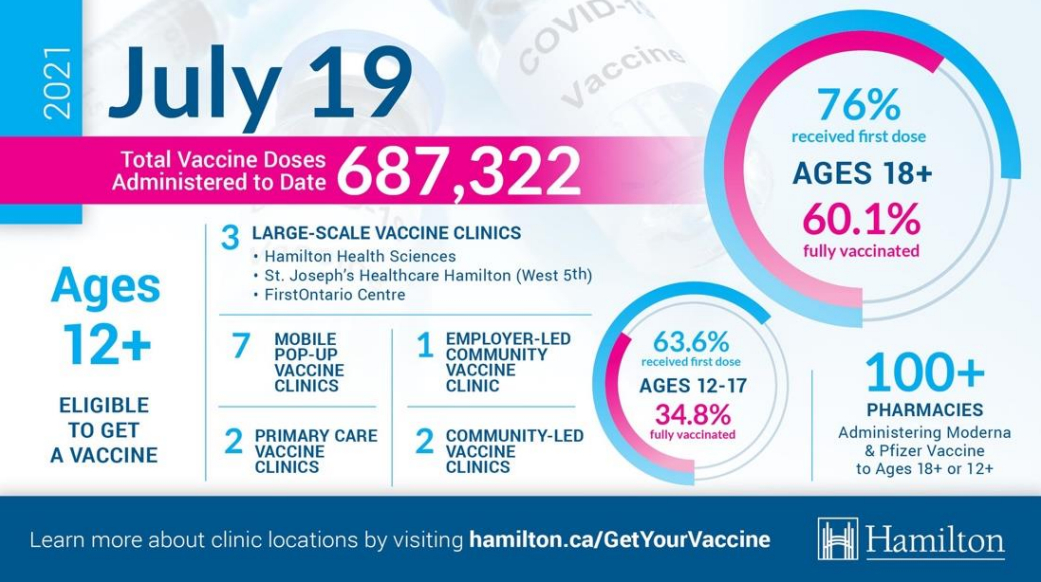 Source: Public Health Hamilton https://www.hamilton.ca/coronavirus/covid-19-vaccine-distribution  
The City of Hamilton continues to see the improvement of the Covid-19 situation, reaching the lowest number of new cases since September 19, with only 3 new cases on July 12. Below you can find the statistics from July 8 to 14 for Hamilton.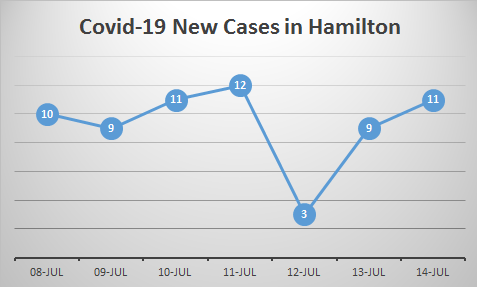 Source: Public Health Hamilton https://www.hamilton.ca/coronavirus/status-cases-in-hamilton 
CIC Nurses Provide Vaccination to 12+ Students, Staff and Their Immediate Family 
Students returning to CIC Residence with one dose, or without a COVID-19 vaccine, will be eligible to receive it in the comfort of their Residence or Academic Building. Parents must send a signed COVID-19 vaccination consent. 
CIC students who have received their first dose at CIC will be eligible to book their second dose appointments at a faster date if at least 28 days has passed since their first dose. 
CIC Nurses are offering vaccination for first or second doses to all students, staff and their direct family member living in the same household. CIC is joining the efforts to keep our community safe with lower covid cases and higher vaccination rates. 
CIC Students Exempted from Quarantine when Fully Vaccinated
International travellers who are currently eligible to enter Canada must have proof of vaccination with one of the 4 vaccines approved by Health Canada to qualify for exemption: Pfizer, Moderna, AstraZeneca and Janssen.  
The Canadian Government announced that fully vaccinated travellers coming to Canada 14 days or more after receiving the second dose will be exempt from the 14-days quarantine.  
Fully vaccinated CIC students meeting the above requirements who are returning to Residence this Summer and Fall will be released from quarantine after receiving a COVID-19 negative test and clearance from CIC's Medical Team. 
Linden Hall is CIC's Dedicated Residence for Quarantine 
All arriving students, new or returning, coming back to CIC from abroad or any part of Canada, are required to proceed to check-in at Linden Hall for Quarantine – 55 Catharine Street South, Hamilton. 
To protect all students: 
New and returning students are NOT allowed to enter Pine Boys/Pine Girls Residence without completing the Mandatory Quarantine period required by Public Health.