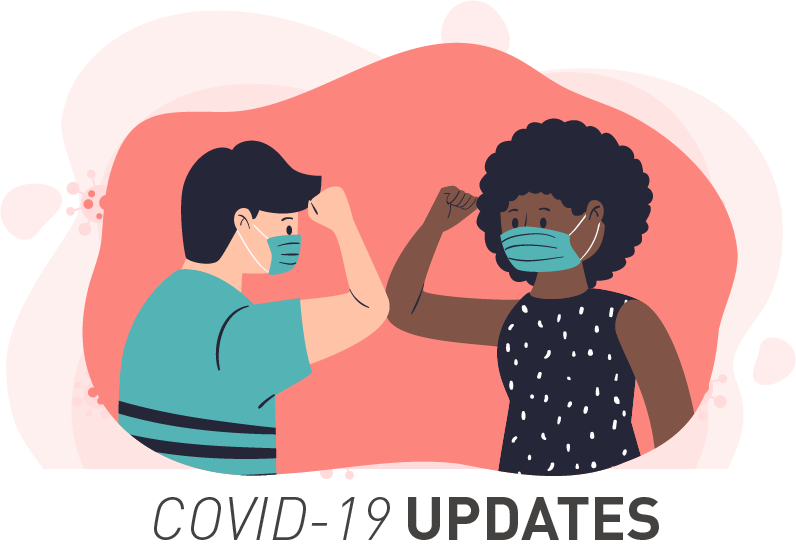 On January 12 the Ontario Government announced a state of emergency and a provincial stay-at-home order that will remain in effect at least until February 10, 2021. High School classes will continue remotely until then.
Earlier this week the government indicated that the strict lockdown measures implemented on December 26, 2020 seems to be working as new COVID-19 case numbers are stable, staying at a 3,000 range per day. According to the Province's top doctor, the testing positivity rate is also dropping; all are considered early signs that the restrictions are effective at controlling new cases.
As per communication sent to all students and parents by CIC's Principal Mr. Ironside, the current COVID-19 restrictions are impacting Columbia International College.
How Do the New Restrictions Impact CIC?
The restrictions that most impact Columbia International College students and staff include:
There will be no in-class instruction until February 10, 2021 at the earliest for schools in the Hamilton Public Health Region – this includes CIC.
Ontario is placed under a stay-at-home order, which requires everyone to remain at home with exceptions for essential purposes such as food and pharmacy or doing essential work. Our Total Care team in residences are considered essential and they will continue to support students during the state of emergency.
Outdoor gatherings are restricted to 5 persons.
Masks remain mandatory indoors. Masks are also now being recommended outdoors where physical distancing of more than 2 metres is not possible.
For a full review of Ontario's new restrictions, please go to the Government of Ontario website:
https://www.ontario.ca/page/emergency-information
How Are We Supporting Students?
The full support of our Total Care Education Team remains in place while classes are taken remotely.
CIC students continue to be supported by CIC Staff committed to their well-being and success:
Residence – Students living on-campus can contact House Parents 24 hours per day, every day of the week by walking in or calling the front desk.
Admission & Liaison – Ongoing support to connect students and parents with all CIC services and resources.
Student Leadership Development – SLD is running in-person and virtual Clubs, Activities and Leadership Teams.
In-Residence activities run from 1:00 – 8:00 pm on weekdays and inlcude gym, hikes, sports, games, crafts, community service, dance and video-games. See Pine Boys and Pine Girls Schedule
Virtual Activities run from 2:00 -7:00 pm and can be joined via Zoom Link on eZReport Card and include Game Nights, Social Circles, Debate, Trivia and themed discussions.
Contact SLD for Clubs, Community Service and Leadership information.
Medical Clinic – Students in Residence should connect to Medical via Residence staff or check Nurses' hours in the Wellness Room.
Wellness – Confidential service and support is available for both students living in Residence and off-campus (mental health counselling, wellness, strategies to cope with stress, homesickness, anxiety, etc).
Guidance & University Placement – One-on-one counselling and guidance on courses, study plan, university applications and requirements. Group sessions, training and Workshops.
Tutoring and Academic Support – Students can have support from teachers, tutors and peer tutors. Sign up forms are available on the Academic Support & Tutoring Moodle Page Enrollment Key: tutoring
TEACHER ACADEMIC SUPPORT: Provided by teachers during their posted available times. Great for course specific questions, questions about instructions and assignments, or for teacher specific questions.
TUTOR ACADEMIC SUPPORT: On-going weekly mandatory tutoring for students who are struggling in their course(s). Takes place with a CIC hired tutor. May be requested by teachers, vice-principal, guidance or liaison. Students see the same tutor up to twice a week to get one-to-one support.
TUTORING SESSIONS: One-time tutoring session with a CIC hired tutor. Students can apply for appointments and will be booked into the tutor's schedule. Student must re-apply for every appointment. Great for essay editing, reviewing course content and going over difficult concepts. Also great for practicing skills learned in class.
PEER TUTORING: Tutoring conducted by other students who are either taking the course or have already completed it and are strong students. Great if you need first language assistance.
Tech and IT – Our team is supporting any Moodle, network and other challenges related to technology during remote learning.
Chartwells Food Service – You can contact Chartwells by talking to Liaison or Residence, or in-person with Cafeteria staff when you pick-up your meals. Chartwells are providing quality food and snacks on take-out style containers as required by Health authorities. If you have preferences and/or dislikes, please let us know.
Students Living in Ontario but Not in our Residences
Students must know the full restrictions of Ontario's State of Emergency and follow all requirements. The police are issuing fines to those not following the restrictions. If you find yourself in a difficult position, hospitalized or involved in a police matter, immediately call our 24 hour Campus Security number at 905-981-0146 for emergency only.
Students Planning on Travelling to Hamilton from Overseas
All measures as communicated in our correspondence on January 5, 2021 remain in place with regards to the Canadian Government requiring pre-arrival COVID testing and a 21-day quarantine upon arrival to CIC residence. Contact Adsmissions & Liaison to inform of any change of travel plans, necessary documents like quarantine plan, and Letter to be presented upon entering Canada.