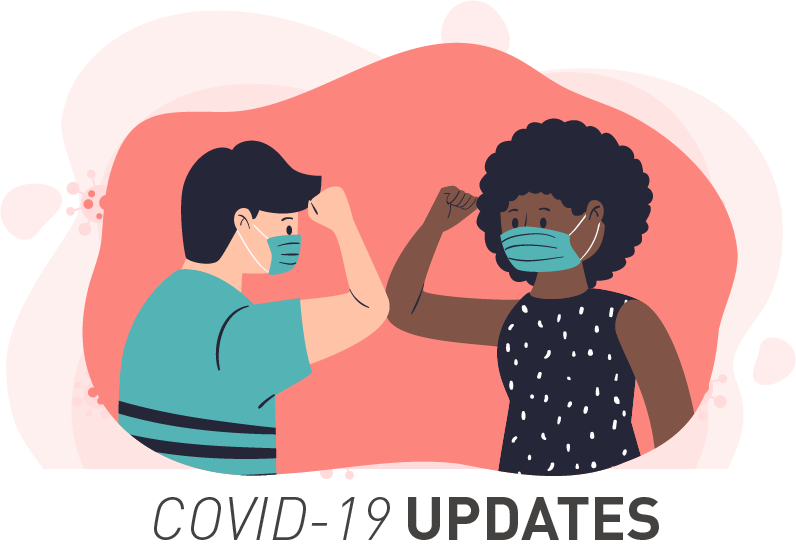 The City of Hamilton remains in the Red Zone in the Province of Ontario COVID-19 Response Framework. Limitations for the Red Zone regions include:
Only leave the house for essential purposes

Gatherings are limited to 10 people indoors and 25 people outdoors

Maximum of 10 patrons seated indoors at a restaurant

Outdoor dining, take out, drive through, and delivery are permitted
The below graph shows the number of new daily cases reported in the City of Hamilton between November 26 and December 7, 2020.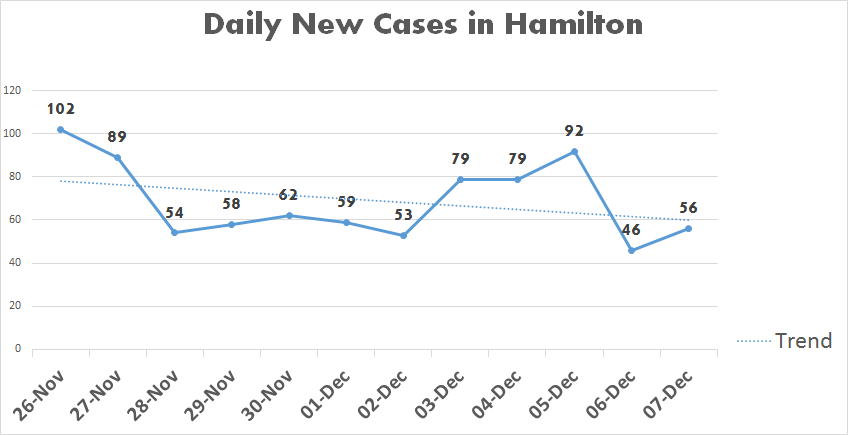 Data Source: Public Health Hamilton
COVID-19 in Toronto and Other Areas
Toronto, Mississauga and two other cities in the Greater Toronto Area are in the Grey – Lockdown Zone where all residents must adhere to extra restrictions on travel, close contacts, gatherings and events. The strict laws in place here include:
Business closures
All businesses are closed except essential businesses
Travel restrictions
Trips outside of the home should only be for essential reasons (work, school, groceries/pharmacy, health care, assisting
vulnerable individuals or exercise and physical activity)
Congregating in groups
No indoor organized public events and social gatherings are permitted, except with members of the same household.
The following graph compares the new cases average from Nov 26 to Dec 7 in the City of Toronto, theRegions of Peel and York, and the cities of Hamilton and Ottawa.
Data Source: Public Health Toronto, Peel, York, Hamilton, and Ottawa
How Does the Local COVID Situation Affect CIC Students In Residence?
With the local situation in mind and Winter Holidays fast approaching, we want to make sure parents have enough information when making a decision on special Residence sign-outs.
Travelling Overseas to Visit Family
Students who are travelling overseas to visit family are taking the COVID-19 tests required by some airlines and country authorities before leaving. Residence and Medical are providing PPE (safety gloves, masks) when necessary.
Travel Within Ontario Could Be Risky
Students considering a special sign out to travel within Ontario are discouraged from doing so.
As per local guidelines, individuals and families in higher transmission areas should avoid travel to lower transmission areas (for example, from red to orange, from yellow to green), except for essential reasons.
The fines and penalties for being in breach of the Ontario restrictions are severe. Premier Ford has announced fines of up to $10,000 for non-compliance with the restrictions of our COVID-19 Response Framework.
Students should NOT travel into the Lockdown Zones (Grey) of Toronto and Peel Region where there are high incidents of new COVID-19 cases daily.
We recognize the challenges that many have faced since March 2020.
Students choosing to travel should:

Know the risk; stay safe by wearing a mask and avoiding large congregations
Know the rules and regulations of Ontario's COVID-19 framework; be aware that fines and penalties for breach of rules are severe and commonplace.
In case of emergency during sign-out, students within Ontario who are in a difficult situation, hospitalized, or involved in a police matter, can call our 24 hour Campus Security number at 905-981-0146 (for Emergency purposes only). We suggest that students who must go into a Lockdown zone shorten their stay and return to Residence with enough time to quarantine and begin classes in-person on January 6th, 2021.
Quarantine Requirements for Students Returning to Residence
All students signing-out, regardless of the location, will have to quarantine for 14 days before attending classes in-person. Details about quarantine were sent by email to all parents and students currently living in Residence.