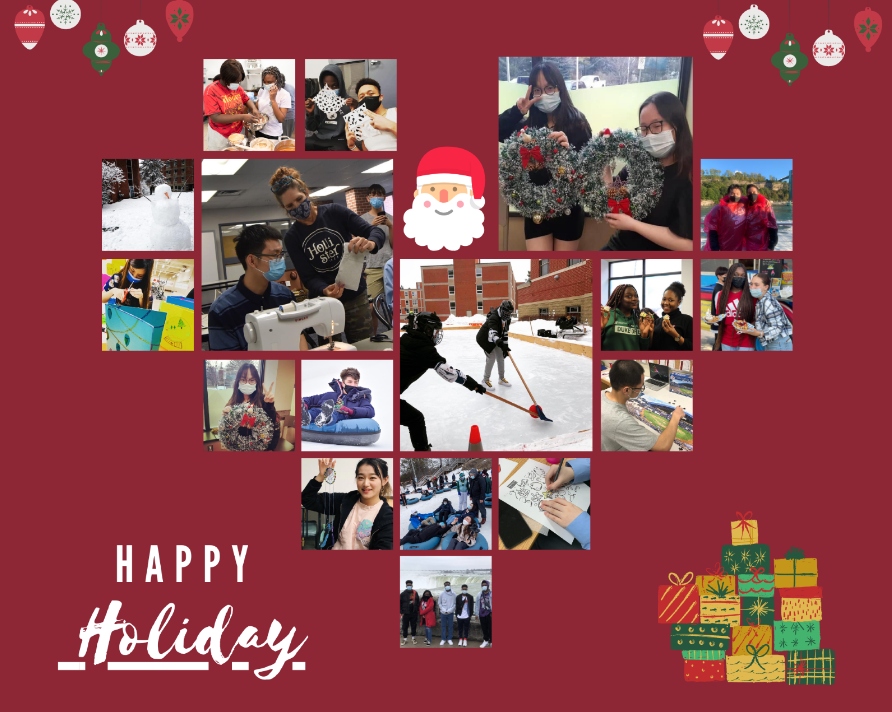 As we approach the end of the year, CIC students and families start to plan for Winter Holidays. The last day of school will be December 7th and a variety of Winter activities and events are planned to run during the school break, in-residence and at external venues. 
The Winter Holiday and School Break is a wonderful opportunity for CIC students to enjoy time with their friends and have a Canadian winter experience by joining holiday-related activities and events. The break will also be an opportunity for students to sign-out from Residence to go home and spend quality time with family. 
Sign-out Policy and instructions have been sent to all students and parents by email this week. Please reach out to your Admissions & Liaison staff if you have questions. The Sign-out form must be submitted via ezReport by parents only. 
December Break Activities and Events
A detailed calendar will be released soon, but students who decide to stay in residence during the Winter Break can expect a wide variety of activities to include clubs, movies, indoor and outdoor winter themed games, shopping trips and much more. 
The Student Leadership Development Team will be offering weekly camps featuring traditional Winter Sports like Curling, Tobogganing, Snowshoeing and Archery.  
There will be large trips to take students Skiing, Snow Tubing, and attending Winter Festivals. 
SLD will also run fun activities including Baking, Santa Visit and Movie Nights! Another holiday tradition happening again this year is the Community Service event when students have a chance to prepare special gifts for those in need. 
The Residence team is planning fun holiday games and workshops, special holiday snacks and treats, a Talent Show and even a visit from Santa! They will also bring students out to enjoy Christmas Lights, traditional plays, and other winter events. 
CIC will also make First Aid training available to interested students during the holidays. 
Access our website for a calendar of events – https://start.cic-totalcare.com/calendar/