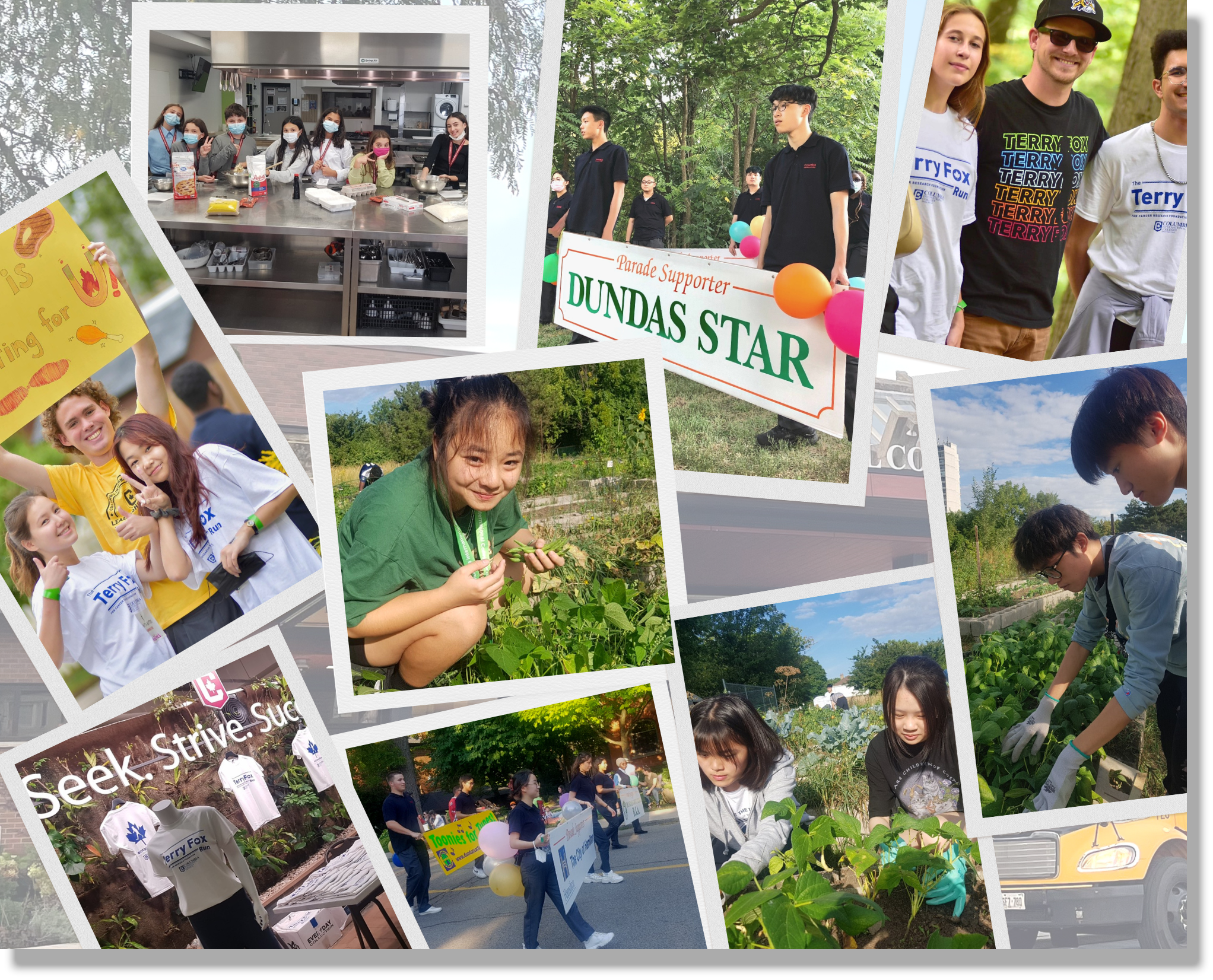 In the past few months, CIC students have enjoyed many opportunities to earn Community Service hours while feeling good about helping their community in a variety of ways!
We kicked off the fall semester with a busy Labour Day weekend during which CIC students benefitted numerous local charities by volunteering at Canada's largest Ribfest, working in teams to keep the festival famously green and clean by diverting over 95% of the festival's waste from landfill!
Other recent community service activities have included:
Leading the Dundas Cactus Festival Parade and proudly carrying parade sponsor banners
Harvesting fresh produce for the community at the Hamilton Victory Gardens
Loom knitting hats and scarves for Mission Services Men's Shelter and Inasmuch House for Women in Crisis
Helping other students succeed academically by volunteering for our Peer Tutoring program
Participating in the Terry Fox Run/Walk benefitting the Terry Fox Foundation
Learning the art of Amigurumi to make beautiful crocheted animals as part of a fundraiser for a local animal rescue
Baking homemade treats for patrons of the Neighbour to Neighbour Food Bank
Knitting baby hats for Hamilton's Baby Depot, providing hampers full of baby's first year needs
Developing leadership skills and enriching student life by volunteering time and effort as a member of Student Council, Service Prefects, Athletic Council, or Residence Leaders
Participating in the beautiful fall Walk for Wellness benefitting Hamilton Mental Health Outreach
Knitting blankets to keep cats and kittens warm and comfortable while they wait to be adopted from the Hamilton SPCA
Through the kindness, effort, and skill of our CIC students, our entire community has been touched, from our youngest and most needy children to our most elderly community members, and even our local furry friends.
CIC students have shown much kindness to Hamiltonians at risk of homelessness, adults and children with mental illness, families dealing with food insecurity, and those facing down cancer. CIC is proud of our students' continued selflessness and desire to enrich life for our most vulnerable community members.
Upcoming Community Service Opportunities
In the coming months, in addition to our ongoing leadership, knitting, amigurumi, tutoring, and baking programs, students will enjoy the popular and educational Global Health Mission benefitting Doctors Without Borders, Christmas in the City Market benefitting St. Joseph's Hospital, our Christmas Toy Drive supporting City Kidz and Operation Santa Claus, and CIC's Community Service clubs in which students will make Fidget Blankets for adults with dementia.