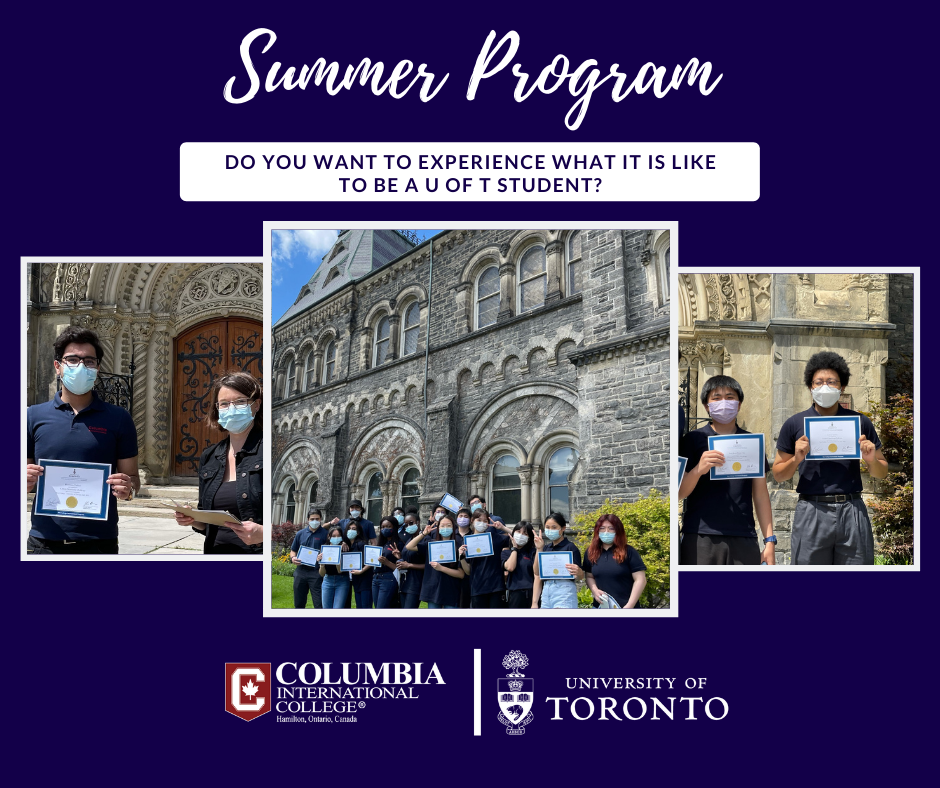 Although technically it's still spring, we can't wait to share some information regarding 2022 CIC Summer Programs in July. Here's a sneak preview of the planned activities.
2-Week Programs in Partnership with the University of Toronto
CIC is the world's #1 feeder school to the University of Toronto. We are proud to partner with the University of Toronto to deliver the best educational experience to our students.
These 2-week programs are expertly designed and taught by the University of Toronto instructors to help students advance their academic and career goals to the next level.
University of Toronto – Global Perspectives on Global Business
University of Toronto – Global Citizenship challenge
1-Week programs
The weekly programs provide fun and inclusive activities to socialize, improve leadership skills and connect with the local community in a safe and healthy setting.
Algonquin Park Canoe Trip
Learn to Golf Camp
Rock Climbing Camp
Leadership training Camp
Serving your community camp
Day Trips
Experience Ontario's breathtaking natural beauty and cultural diversity on these fun-packed day trips! The students will explore the most fascinating destinations that the province has to offer!
Overnight trip – 1000 Island Cruise Kingston – Queen's University
Wonderland
Canada Day – Fireworks
Niagara Falls
Toronto Zoo
Toronto Blue Jay
Toronto Football club game
Mirvish Live theatre
Wet n Wild Water Park
Tree Top Trekking
Royal Ontario Museum
Art Gallery of Ontario
Hamilton Bayfront Cruise
Adventure Village
Registration dates and costs will be announced on REACH App. If you have any questions about the programs, please visit Student Leadership Development Office at S244.
* All the above activities are in the planning stage and availability will depend on the number of sign-ups.
* All programs will follow current CIC COVID-19 safety protocols.