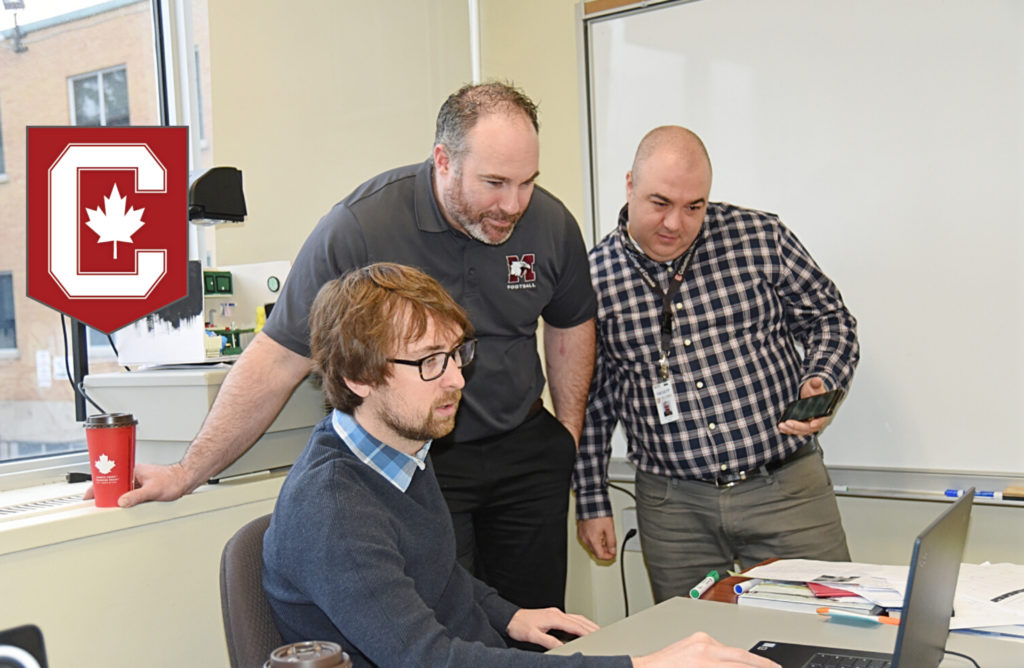 Dear CIC Community,
Re: Remote Learning at Columbia International College
Earlier today, the Ontario Ministry of Education, announced the closure of all publicly funded schools from March 14 to April 5 (inclusive of March Break, March 14-22) due to concerns about COVID-19. This decision is based on the advice of Dr. David Williams, Ontario's Chief Medical Officer of Health.
Our Plan
Columbia International College has finalized a plan for the two weeks, March 23 to April 5, following March Break.
To ensure learning continues for our students during the two weeks, we will initiate remote teaching and learning. In-school physical classes are replaced by remote classes in student residences using our Google Classroom platform. Using Google Classroom means our teachers will actively facilitate the daily lesson as if they are in the classroom.
•Teachers and students follow our regular daily schedule.
• Teachers are present online at the same time with the students.
•Students will be engaged in each class remotely from their residence.
•Student attendance is taken.
•Students are expected to participate in class using the many Apps in Google that allow for:
O Critical thinking
O Collaboration
O Communication.
•Student participation is required and documented and assessed.
•Assessment continues in a variety of forms including observations and conversations, assignments, quizzes and theory-based lab work.
Columbia Staff will be providing evening program for students at individual residences. The nature of the activities will be reflected by considerations that allow for low risk.
Friday Trial Run, March 13
To prepare for remote teaching & learning, our school is conducting a trial run on Friday March 13. Our teachers will be conducting all period 1 lessons remotely using Google Classroom. We see this as an important trial of both our ability to conduct lessons and assessments remotely as well as the capability of our network and internet bandwidth.
Students, you have an important role in this trial run and I ask for your cooperation in this work. We are requesting all students to be
• in their residence rooms with laptops and connected on-line
• ready to participate in your period 1 Google Classroom
• beginning promptly at 8:45 am
Homestay students and students who live off campus can either learn from home or at our Ainsliewood Academic Building in the Living Wall Lounge during this test.
Remote Class Details:
1. Attendance will be taken via Google Form provided by your teacher. Teachers will enter attendance on Google Form and in Gradebook.
2. Your participation is expected and graded, just as if you are in the physical classroom.
3. To assist us in the network/internet testing – I request you do not have multiple devices in use during the period 1 class (8:45 am – 9:25 am).
4. Your residence room should have an ethernet port (except for Linden) for wired connection. If you have an ethernet cable and adaptor (if needed), please connect and use it. If you require a cable, it will be available at your residence front desk on Friday morning.
5. You will be given an exit survey card by your period 1 teacher – we ask you to complete this exit survey card as part of your lesson.
6. Any before school and period 1 tutoring sessions can also be conducted online through Google Meet / Chat if scheduled.
Trial run Schedule:
• 7:00am to 8:30am – Light breakfast will be provided at your residence between.
• At 9:30 am – Bussing will be arranged immediately following the period 1 lesson so be in uniform and ready to come to school to begin period 2 on time for a regular scheduled day.
• At end of day – Students are requested to bring all teaching and learning materials back to residence with them at the end of the day Friday March 13, 2020.
After April 5
By providing our lessons on Google Classroom, our students stay on track to demonstrate their learning once they return to our physical classes and to graduate on time.
Literacy Test
The Ontario Secondary School Literacy Test is scheduled for March 31, 2020 and will obviously be impacted. We are awaiting direction from the Ministry on next steps and will communicate the Ministry's directions to you when we receive it.
Our common goal is to eliminate the risk of COVID-19 and maintain a rich teaching/learning environment. I want to thank all students and parents for your commitment to our school. Our students and staff safety and wellbeing remain our top priority.
Do not hesitate to contact me should you have any concerns or questions. We continue to work with Hamilton Public Health to ensure local alignment and will continue to update all CIC stakeholders as the situation develops.
My email address is bironside@cic-TotalCare.com
Yours in education,
Bill Ironside, Principal