CIC is devoted to building character in its students by teaching them key values that create responsible global citizens.
On November 28, Columbia International College (CIC), held its first ever 'Character Awards,'  an award ceremony particularly dedicated to recognizing students who excel not only excel in their academics but also their attitude in and out of the classroom.
In the words of our Vice Principal:
Having  our first ever Character Award's ceremony to celebrate our student's commitment to our character attributes was of the utmost importance to Bill Ironside (Principal) and I. We believe it aligns with our Total Care Education approach and that of the Ontario Educational Program. Celebrating all student successes including character attributes as well as academic excellence honours the whole student. What makes CIC the best place in the world to learn and work is our students, staff and our families. We all believe in the importance of  instilling good values in our students, preparing them for their future and celebrating  important character virtues like honesty, perseverance, inclusiveness, optimism, respect, caring integrity and responsibility to name a few. I am beyond very proud to serve this community as your Vice Principal. I genuinely admire our students and their families daily. They have sacrificed a tremendous amount to study abroad and pursue their dreams. They are resilient, strong, kind and a purposeful in their direction. Character is the key to success, and I am confident our students are well on their way to successful futures supported by our outstanding CIC team. At Columbia, we care.
The Characters traits, listed below, are defined by our students and show their commitment to the principles of character.
Caring:
We demonstrate concern for self and others.
We show kindness towards each other.
These students were described as having great leadership in helping others; engaging in thoughtful discussions with others and being open-minded; helping others and always being kind- never frustrated; being appreciative of anyone that helps them as well; finding ways to bring happiness to others.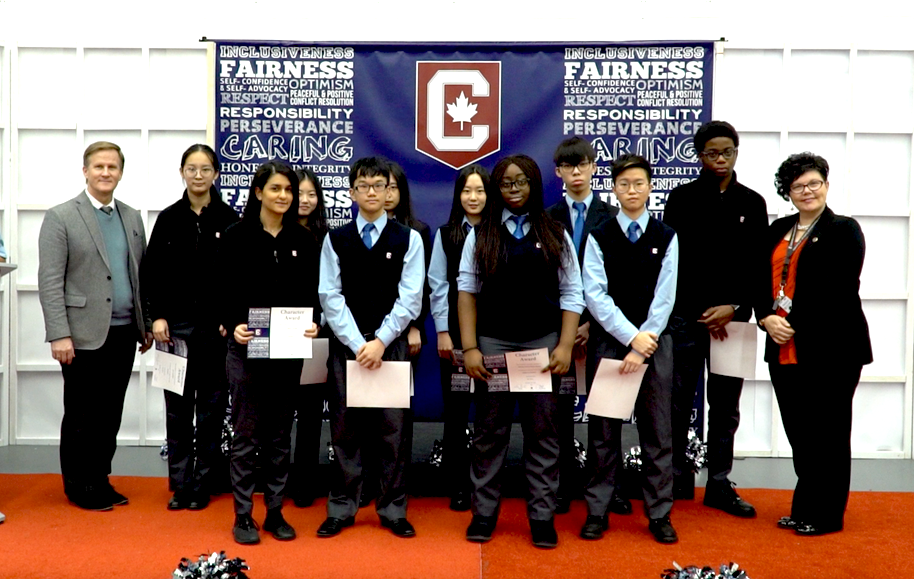 Recipients:
OLUWADUROTIMI WILSON AKANNI
YI-HSUAN CHEN
HUBERT MAN HO CHENG
ZHIHE CUI
ZIYIN JIA
XINTAO KANG
YUTONG LI
MINH THANH NGUYEN
BAASANJAMTS SARANTUUL
PUI KI SO
YI-SHU TSENG
Honesty & Integrity:
We are truthful and sincere with ourselves and others.
We admit our mistakes.
Integrity as defined by CIC staff and students
We always try to do what is right even when no one else is around.

We are trustworthy and what we say matches what we do.
These candidates were recognized for actively taking responsibility for their actions and advocating on behalf of others.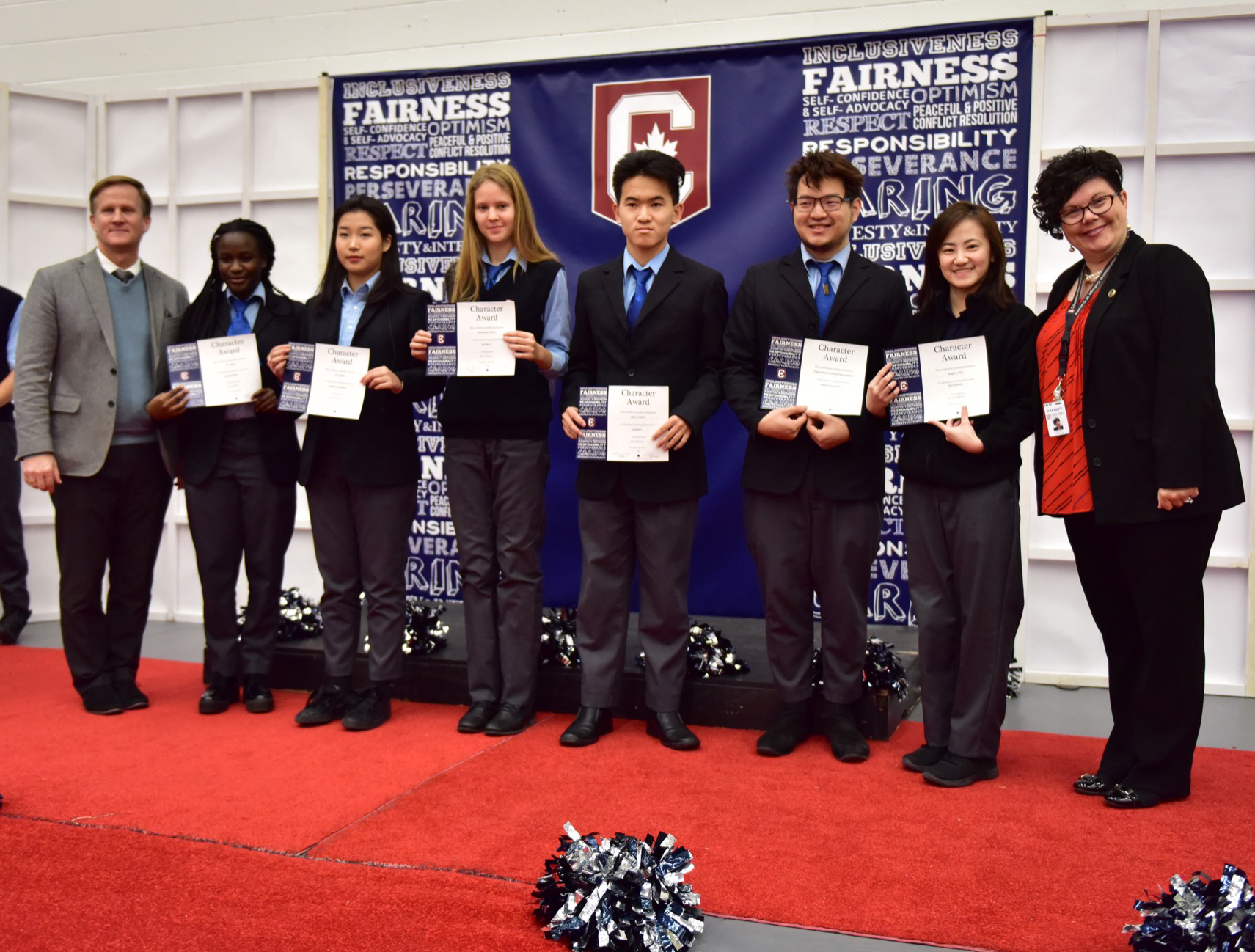 Recipients: 
TOMISIN DORCAS IBUNKUN ADENIRAN
DELBAR GHOTBI
HAIRONG GUI
YELENA RAZZHIVINA
YIU MAN TING
NANDI YEREMAN FATOU FADELIA TRAORE
JICHEN YU
Inclusiveness
We work to build a community where everyone feels included and where differences and diversity are honoured.
These students were described as students who encourage classmates to greater involvement and understanding; finding ways to connect and help others; actively works to make CIC a welcoming community to all; makes all members of their team feel valued and successful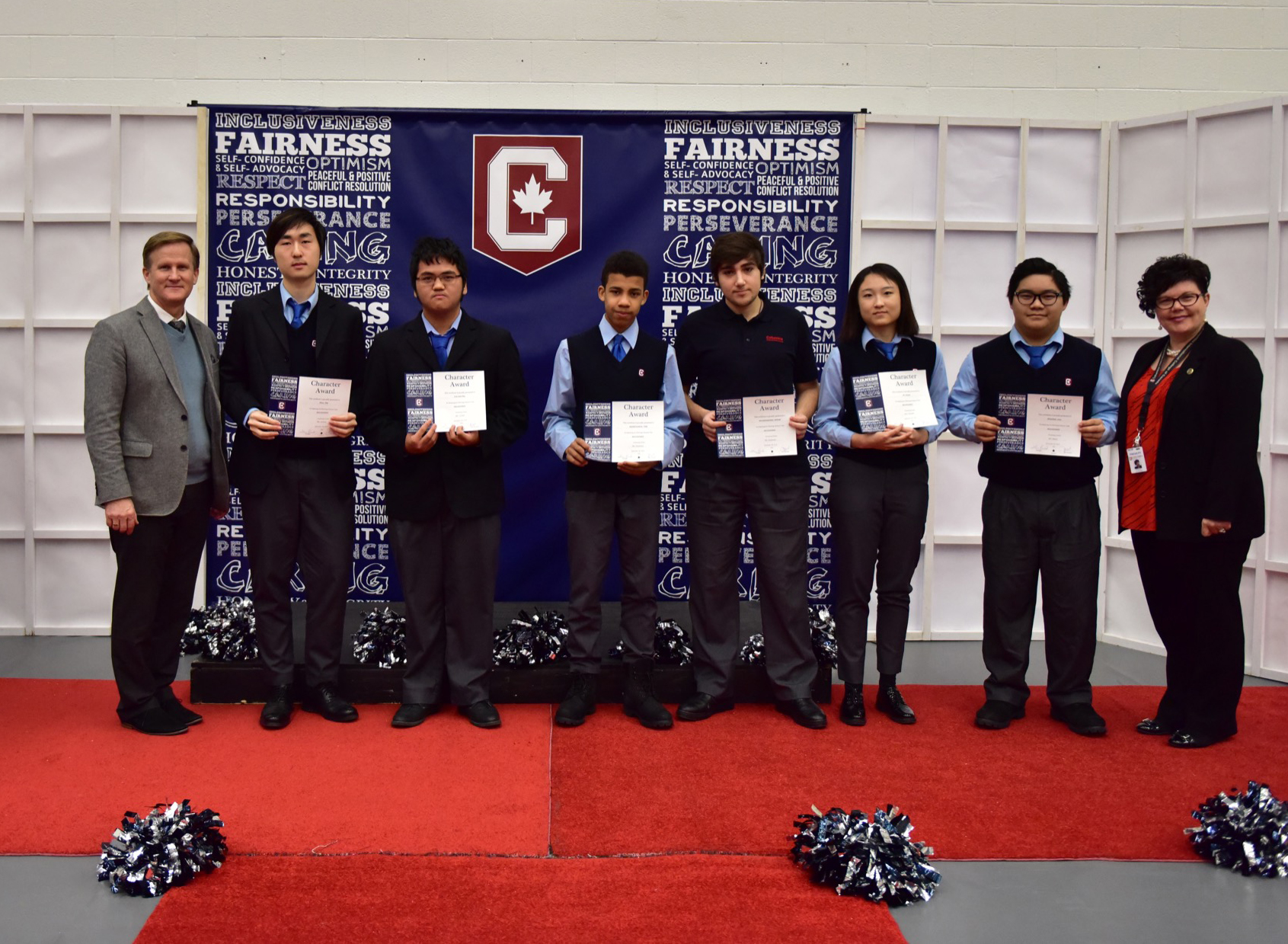 Recipients:
VINA ANGGORO
XIAOYI HE
SEPEHR NAVIDIGHAZIANI
TOM NSENGIYUMVA
JOEY RHEINHART
ANH PHU TRAN
ZIQI ZHOU
Optimism
We think, speak and act positively. 
We see challenges as opportunities.
We have hope for the future.
These students were described as being inclusive and optimistic and their attitude emanates throughout the class; having a great attitude and always encouraging others; exuding positive energy; bringing optimism and enthusiasm to the class.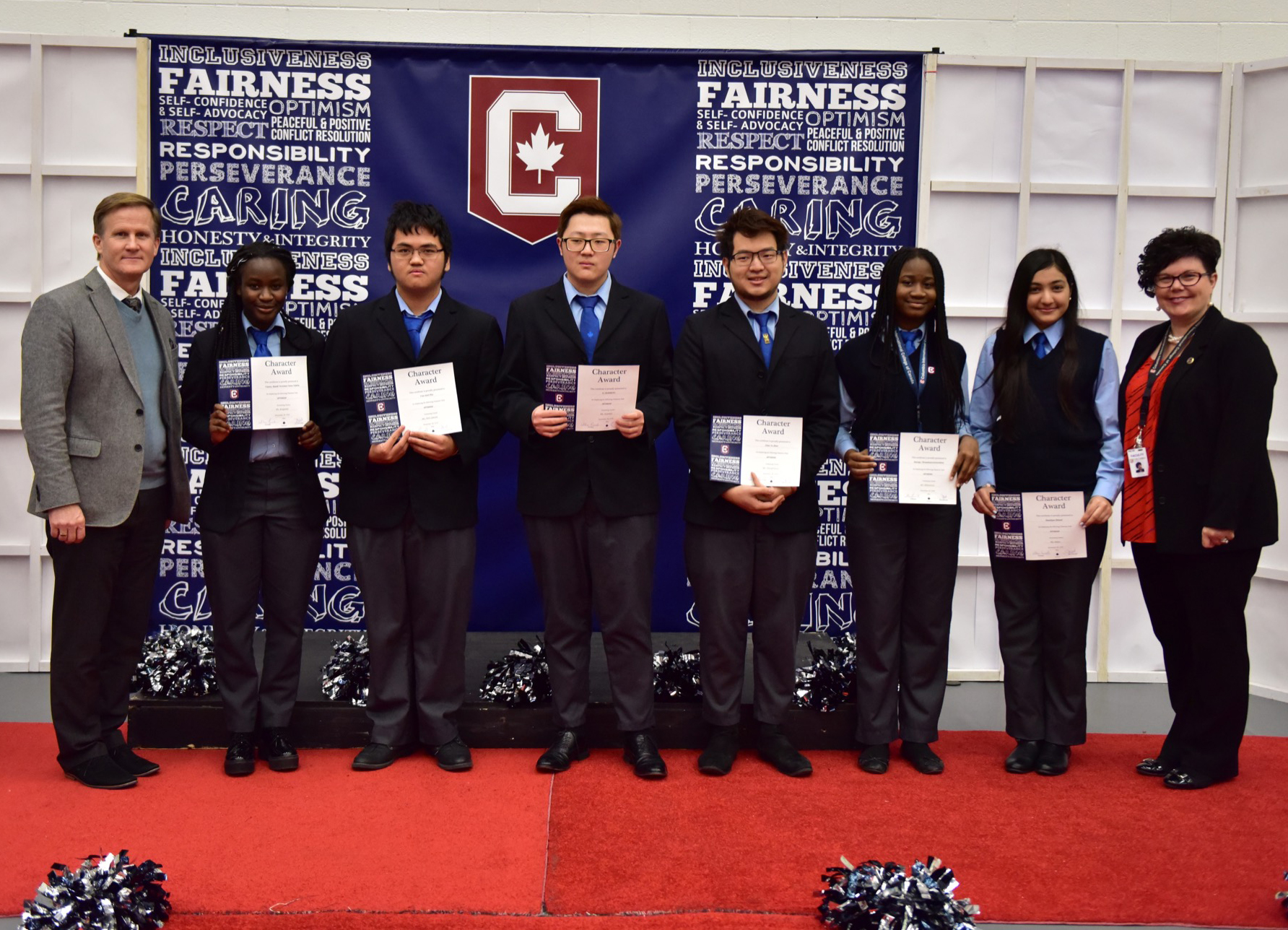 Recipients:
YU ZHEN CHAN
OLUWAKOJUSIMISEMILORE GEORGE
GHAZAL HOOSHYAR
GUANGYU LI
ANH PHU TRAN
NANDI YEREMAN FATOU FADELIA TRAORE
Perseverance
We stick to our goals in spite of difficulties.
We are committed to finishing what we start to the best of our ability.
We are determined to work hard.
These students were described as never giving up; carrying on with determination, humour and optimism despite difficulties; showing dedication to improvement; working hard and being unafraid to ask questions for themselves or others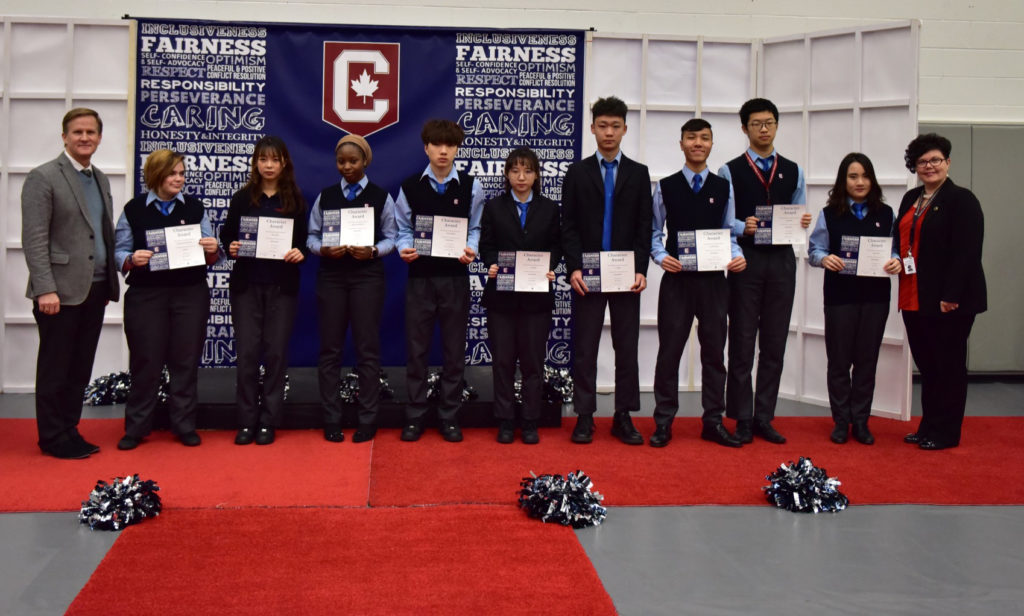 Recipients:
HAIYI GUAN
SHING CHUNG KO
TENGGE LI
ZIXING LI
XIANQING PAN
FANGSHU PENG
JIA WU
MARYAM AMANI YAHYA
YUTONG ZOU
Respect
We value ourselves, others and our environment.
We treat people the way we want to be treated with courtesy and politeness.
These students were described as filled with passion and respect and pushing for excellence; being respectful of staff and students and helping you before you even know you need help; being polite, courteous and kind to all.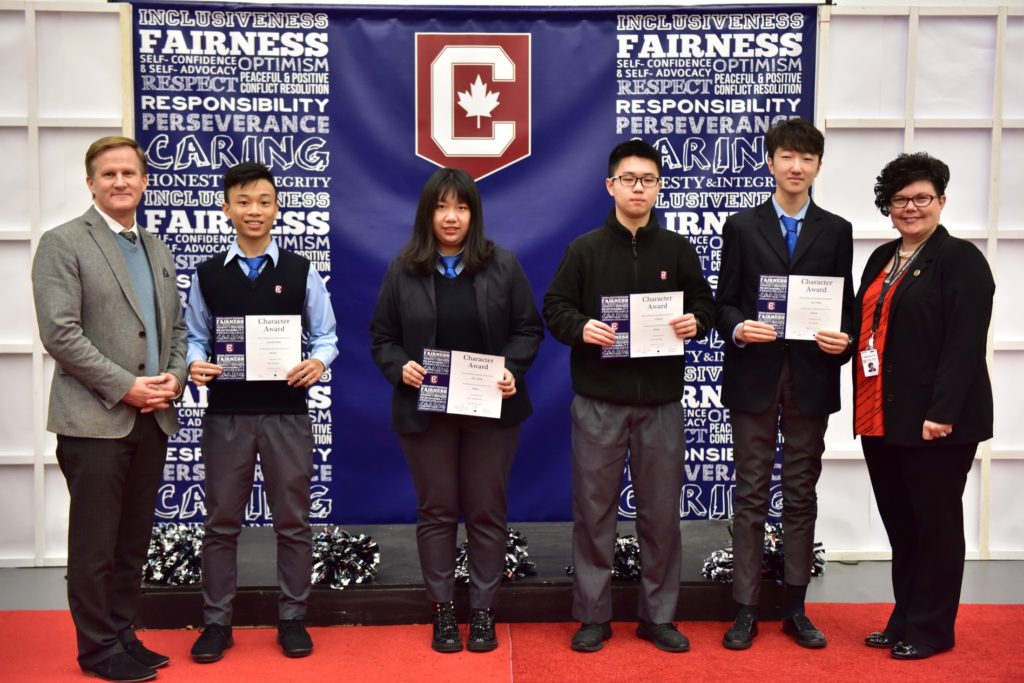 Recipients: 
MARIANA BERNAL SANROMAN
ZIQING CHEN
DAC NHAN HO
BOYANG LI
SONGZE WU

 Responsibility
We can be trusted and follow through on all our commitments.

We are accountable for all we say and do.
These students were described as students who are dedicated and seek out constructive feedback to maximize their learning potential; taking on leadership roles and giving all members of their team a sense of purpose; being model students by balancing school and extra-curricular roles; setting a great example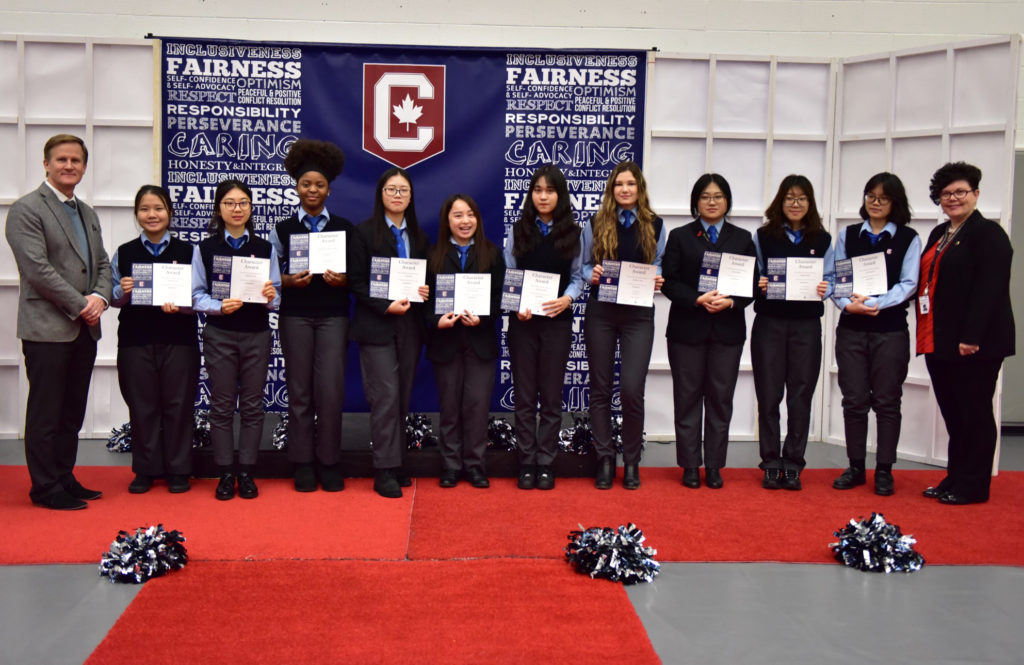 Recipients:
PHUONG ANH CAO
THIEN THANH HOANG
MEGANDE ASHBELLE GISCARDINE R HOUNHOUEDO
HAN HAN HUYNH
QINGZE MENG
HAI ANH NGUYEN
XUANWEI SHAN
YANA SOKOLTSOVA
GUANGHUI SONG
THI NGOC DUYEN VU
LETIAN YIN
RUOXIN ZHANG
MENGYAN ZHU
Self Confidence and Self-Advocacy
We believe in ourselves.
We are committed to meeting our goals and seeking help from others when necessary.
These recipients were described as setting high goals, seeking help and acting on advice given; striving for excellence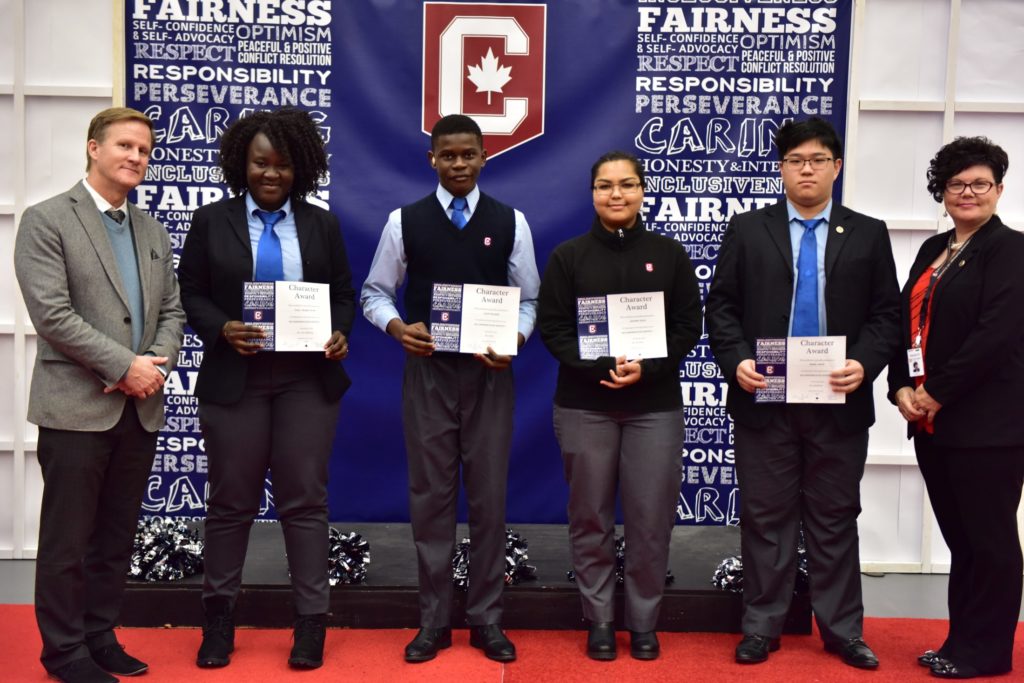 Recipients:  
SANIYA JALALUDDIN
ABASENYI ASSAM ODUNGIDE
NANGOH SARRAH TRAORE
JUNLIN ZHANG