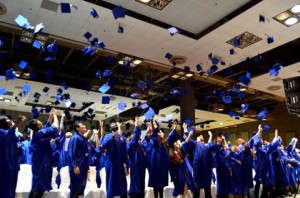 Congratulations to the 2015 May graduating class!
On Thursday, May 14, hundreds of Columbia International College students proudly celebrated one of life's milestones, high school graduation.
Held at the Hamilton Convention Centre, Columbia welcomed parents, staff, university partners and community members who were in attendance to celebrate this exciting occasion with over 700 students. The Ceremony highlighted both the academic and extracurricular success while recognizing those who made significant contributions to the local and global community.

Special Messages
Hamilton Mayor Fred Eisenberger was the first to welcome all students, parents and guests to the ceremony. He thanked Columbia for bringing such a diverse group of students to the City of Hamilton and thanked the students and parents for their contributions to the City. As Hamilton is one of the most diverse cities in the country, he hopes students will return to study or work in Hamilton.
Don Hunt, Registrar, York University also addressed the graduating class to offer a congratulatory message on behalf of the University. He spoke about the strong partnership York University and Columbia have developed over the years and acknowledged the high achieving Columbia students who receive scholarships to York year after year.
Keynote Speaker
Columbia was pleased to have Dr. Carolyn Ford, Director, International Undergraduate Recruitment, Western University, as this year's Keynote Speaker. In her address, she shared important key messages and pieces of advice with graduates. She reassured them that it is normal to be unsure of what you want to do in the future and that you should continue to work hard and improve your skills. Dr. Ford further told students to not be afraid to fail as "failure is a critical component of success." Failure early on in life will help discover resiliency and allow one to be more confident later on in life.
Valedictory Address & Vote of Thanks
The May 2015 graduating class voted Andy Nguyen to represent them as Valedictorian. In his heartfelt speech, he thanked the staff and teachers at Columbia for allowing him to develop the skills that have prepared him for success. Andy also acknowledged the hardships and difficulties that lie ahead but remained optimistic that his peers will conquer these challenges as they did when they first arrived at Columbia. Before concluding his speech, Andy reminded his peers to never stop believing in themselves and wished them the best of luck in their future endeavors.
Nina Wang's charismatic Vote of Thanks speech left everyone laughing and smiling. In thanking the entire Columbia community -from everyone to teachers to the support staff to housekeeping to Sodexo- she shared personal stories that resonated with her fellow graduates. She credited the school's Total Care Education® for giving all students unique opportunities to step out of their comfort zone and contribute to the world around them.
Columbia would like to thank the following people for their work in organizing this year's May graduation; Maintenance, UPO, the Liaison and Media teams, Mr. Lawlis, the school band and the Vocal Music Class, and all those that helped in the organizing the event.
We would also like to thank all university representatives and the Hamilton Convention Centre for helping to make this year's May graduation a memorable one.
Watch the entire ceremony on our YouTube channel.