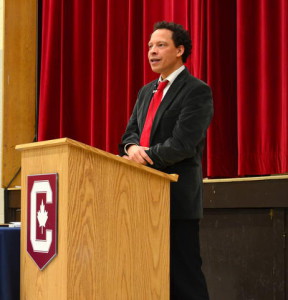 Last semester, Ms. Pivniceru's Writer's Craft class received a heartfelt message from renowned Canadian author Lawrence Hill.

Students in this class wrote a film review of the CBC series The Book of Negroes, based on Hill's award-winning novel of the same title. Ms. Pivniceru was so pleased with the quality reviews and analysis of her students' that she forwarded a few of them to the author. Hill was also impressed by the students' work and sent the following message:
"Thanks for that most lovely note. You made my day. I enjoyed reading Isana's review, especially this great line:
The inclusion of romance in a storyline filled with trials and hardship has almost the same effect as a candlelight in a dark room- it offers brief and sweet respite from the suffering and pain without being overly cheesy.
Hope this finds your students and you well, and please give a special hello to Isana.
All the best,
Larry"
Congratulations to Ms. Pivniceru and her Writer's Craft class on their exceptional work.
Lawrence Hill at Columbia
Lawrence Hill visited Columbia in 2013 as part of the school's Writers at Columbia program. Hill was invited to speak to grade 12 English students about his groundbreaking work – in particular his novel, The Book of Negroes, – which focuses on issues of race, identity, and belonging.
Watch episodes of his CBC series online.