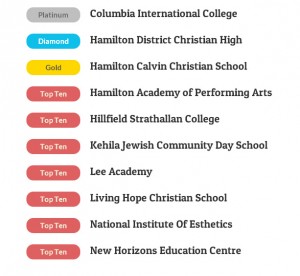 The results for the 2014 Hamilton Spectator Readers' Choice Awards were announced today and Columbia International College is thrilled to report that we were voted number one in the category of Best Private School. Out of 10 local schools nominated, we were awarded the title of Platinum winner.
The Readers' Choice award recognizes local businesses in the Greater Hamilton Area and winners are determined by votes of local residents. To see a list of all winners, click here.
We would like to thank all those who voted for us and the Hamilton community for their support throughout the years.