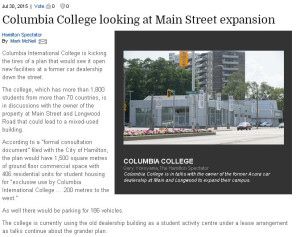 Last week, Columbia International College's newest facility – the Longwood Sports Complex – was featured in the Hamilton Spectator.
Located on the corner of Main St. W. and Longwood Rd. S. in Hamilton, just down the street from the Ainsliewood and Maple buildings, the former car dealership was renovated into an activity complex earlier this year.
The complex is currently being used for recreational purposes giving students greater opportunities to play sports such as basketball, ping pong, as well as participate in fitness and team building activities.
Columbia is exploring the opportunity of expanding this site and converting it into a new student residence. With an increasing number of international students studying at Columbia, the residence would well serve the student population and the Hamilton community. Greater information about the project will be available in the upcoming months.
The original article can be read here.