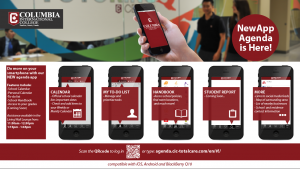 Columbia International College is launching a mobile app to enhance communication between the school, students and parents.
The app will replace the traditional Student Planner typically distributed to students at the beginning of a new semester. Students and parents will be able to receive centralized information and instant access to school news, academic reports and social media feeds.
Features include:
– School and personal calendars
– Student handbook
– Location of medical clinics and medical policies
– Staff contact information
– Student Report
– Interactive map of Hamilton
– Building information
– And more!
The app will be a great time management resource and organizational tool for students, helping them keep track of their assignments as well as their academic and personal calendars. Posters and instructions will be placed around the school to ensure students understand how to use all the features within the app. Members of IT will also be in the Living Wall Lounge to assist students in downloading and navigating the app.
The app is compatible with iOS, Android and BlackBerry Q10 browsers and is free to download. Students can download the app by using this link:http://agenda.cic-totalcare.com/en/#!/ or by scanning the QR codes placed around the school.
A big thank you to mobile app provider WeeverApps for creating the Columbia app.