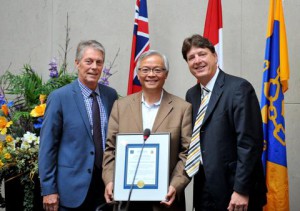 Columbia International College was recently recognized for its business contributions to the City of Hamilton. Yesterday, Executive Director, Mr. Clement Chan, accepted a Business Appreciation Award on behalf of the school during a City Council meeting last night at Hamilton's City Hall.
Columbia was recognized in the Large Business Category for Ward 8 and was presented with a plaque by Mayor Fred Eisenberger and Councillor Terry Whitehead.
The award is given to small and large businesses in each city ward that have helped support the City's economic development. Award winners are selected by city councilors and the City's planning and economic development department.
Columbia's success in the local community is a result of the hard work and dedication of its staff and local partners who diligently work to offer unique educational programming for students from close to 100 countries around the world.
We are proud to be located in Hamilton and will continue to deliver a world-class education and living experience to students and welcome them to this beautiful city.