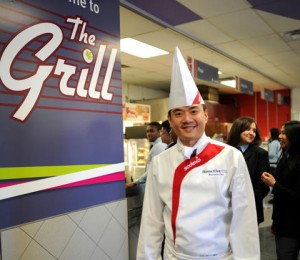 Columbia is thrilled to announce that our Sodexo Chef de Cuisine, Steven Khor, will be representing Canada at Sodexo's Chefs' Competition.
Steven was nominated and selected from a group of Chefs across the country to represent Canada at the corporate competition which is being held during the Sodexo Management Conference.
He will travel to Orlando, Florida, at the end of September to compete in a series of Black Box Culinary competitions – a competition where chefs are challenged to create a unique meal with ingredients they are given in a Black Box.
Steven joined Columbia's Sodexo team in May 2013 and has since earned raved reviews by students and staff for his unique and delicious meal creation. Last year, he won a local Healthy Menu Content and showcased his winning recipe live on Hamilton's local news station.
We wish Steven the best of luck in Orlando and hope he adds another award to his long list of achievements.