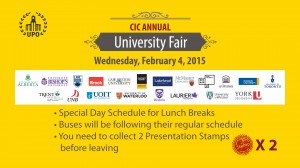 Columbia International College is preparing to once again welcome university representatives from across Canada to its annual University Fair. On Wednesday, February 4, representatives from 20 Canadian universities will be in the Ainsliewood Gym to meet, and speak with, Columbia students.
Organized by the University Placement Office (UPO), the daylong event will provide students with the opportunity to roam each university's booth, learning about their academic programs and university life. Students will also gain a better understanding of be programs, scholarship opportunities and entry requirements when they attend two university seminars of their choice in the afternoon.
Universities scheduled to attend include:
University of Alberta
Bishop's University
University of British Columbia
Brock University
Cape Breton University
University of Guelph
Lakehead University
McMaster University
OCAD (Ontario College of Art & Design College)
University of Ottawa
Ryerson University
University of Toronto
– University of Toronto, Mississauga
– University of Toronto, Scarborough
Trent University
University of New Brunswick
UOIT
University of Waterloo
Western University
– King's College
– Brescia College
– Huron College
Wilfred Laurier University
University of Windsor
York University
For more information, students can visit the University Placement Office.