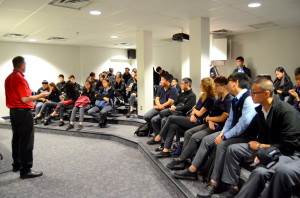 Earlier this week, Columbia welcomed its newest ESL students to our school and to Hamilton by holding information sessions during Transition Day. Held at our new Cedar building, the daylong event presented students with important information of student life as well as familiarizing them with the school's many resources.
Students heard from members of the Medical Clinic, the Liaison Department, Student Development and teachers. They were also introduced to our Campus Safety staff who spoke to them about safety practices within the school and the city.
After attending morning seminars, students enjoyed a fun and leisurely afternoon at the movies. The afternoon activity was a great opportunity for students to explore the city, socialize with their new classmates, and practice their English skills.
Thanks to all those who made Transition Day a great success!