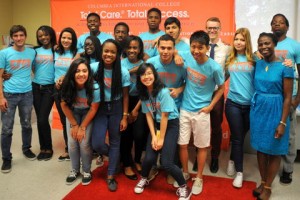 "If your actions inspire others to dream more, learn more, do more and become more, you are a leader." —John Quincy Adams
Columbia is confident the 16 students who participated in this year's Leaders-in-Training (LIT) program will use their newly acquired skills in leadership and personal and career development to make significant contributions to their school and local communities.
On Friday, July 25, the 2014 LIT program concluded with a graduation ceremony, attended by Executive Director, Mr. Clement Chan, General Manager, Mr. Jim Campbell, and members of Student Development. Each student was presented with a certificate of completion for their hard work, commitment and dedication. While all students performed extremely well, LIT facilitators, Ms. Abla and Mr. Chris, wanted to acknowledge a few students for their contributions and outstanding performance in the program;
Most Improved: Oreoluwa Awokoya
Top Performer Runner-up: Clementia Andam and Chiamaka Larry Ubani
Top Performer: Luis Armando Lopez Hernandez
Luis Hernandez was also chosen to speak on behalf of the LIT's during the graduation ceremony. He thanked his LIT mentors for helping the group develop their skills and for giving them the confidence to be true leaders in all aspects of their lives.
Congratulations to those who completed the 2014 LIT program!
Thank you to Sodexo for hosting a great graduation reception and thank you to the Maintenance team and IT team for their contributions.