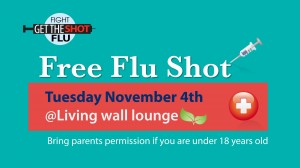 The flu season is fast approaching! With the virus expected to affect a larger number of the population this year Canadian health officials recommend being immunized with the flu vaccination to fight, and prevent the spread, of the seasonal flu.
What is the flu?
The flu is a respiratory infection caused by the influenza virus that affects people of every age. Common flu symptoms include:
• Fever
• Headache
• Stuffy nose
• Chills
• Sore throat
• Cough
It is important to note that these symptoms can be different for each person. The flu typically lasts for about one week but there is a possibility that it can develop into a more serious illness. It is best to visit the nurse if your symptoms last longer than a week.
Preventing the Flu 
Columbia cares about health and safety of its students and staff and is taking the necessary precautions to ensure that everyone is protected from the influenza virus. To minimize the risk of catching or spreading the flu, Columbia will be holding a free vaccination clinic open to all students and staff.
What: Flu Vaccination Clinic
Where: Living Wall Lounge, Ainsliewood building
When: November 4-6 & 11-13, 2014
Time: 9 a.m.-3 p.m.
Students who wish to be immunized require parental consent if they are under 18 years of age.
For more information about the flu virus and the flu shot, cont the Public Health Agency of Canada's Flu Guide; http://www.fightflu.ca/index-eng.php.