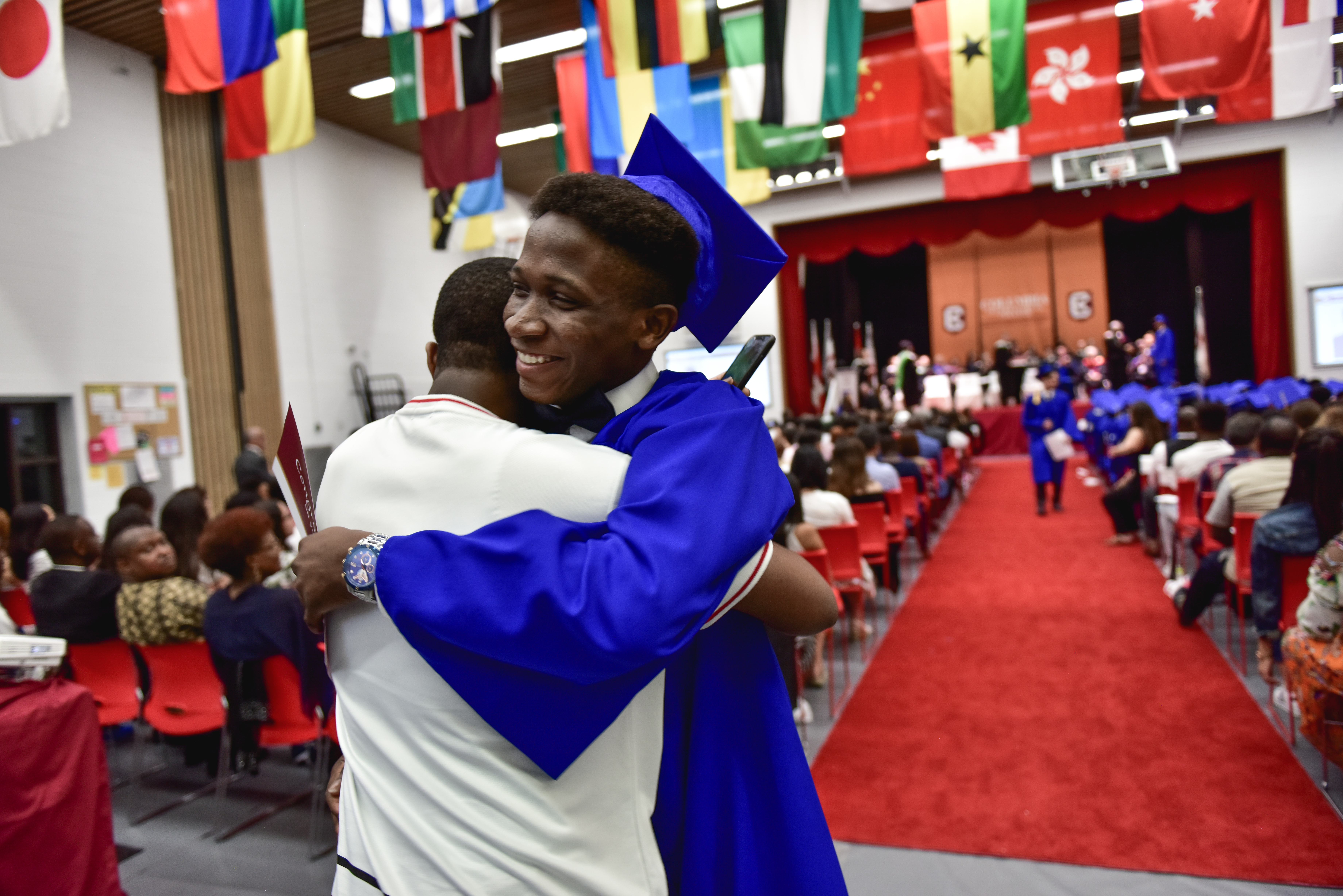 With every graduation comes pride, happiness and hope.  There is a sense of hope that is emitted from parents, family members, staff and of course, the graduates.  As everyone watches the graduates go up on stage, it is the moment everyone has been waiting for.  Hope has lead to this moment of success.  When parents send their son or daughter to study abroad, it is hope that is felt in that they will grow to be a successful and good person.  Hope is what is felt from teachers and staff as they have helped nurture students to become the best version of themselves as they can possibly be.  But it is hope that the students feel in that the next chapter of their lives, will be one that is filled with promise and more success.
Brock University's James Mandigo was CIC's Keynote Speaker at graduation.  James is the Vice Provost for Enrollment Management and International.  He has previously served as Interim Dean for the Faculty of Applied Health Sciences, Associate Dean and was the Co-Director for the Centre for Healthy Development.  He holds a faculty appointment as a Full Professor in the Department of Kinesiology within the Faculty of Applied Health Sciences.  Notably, James received Canada's Physical and Health Education's most prestigious award, the R. Tait McKenzie Award.  In 2015, he was recognized by the Government of El Salvador for his research and development work in that country.  His research and development project in the Central American countries of El Salvador and Guatemala explores the role that sport and physical education have in the prevention of youth violence.
With James' background in caring in important initiatives his keynote address spoke of the importance of caring.  Not only is one of Brock University's core values caring, it is also Columbia International College's.  James' advice was to continue caring in what you do, no matter how big or small.  It is important that in any decision made, it comes from a place of caring for a cause.  He advised graduates to ensure that whatever they become in their life to make sure that they help and care for others along the way.
Jackie Zhan graced the stage as Valedictorian and spoke with remarkable insight.  He spoke from the heart, thanking all departments and staff for every bit of help they have provided to the students of CIC.  From Campus Security, Maintenance, Academics and more – every department at CIC has helped in some way in fostering the success of the students.  When Jackie first arrived to Columbia International College in March 2018, he was making an incredible effort to get involved by bringing the students together and developed his leadership skills.  Throughout his time here, Jackie motivated his peers, engaged quieter students and created an inclusive environment with his positive attitude.  In his speech, Jackie gave a message to all students to keep working hard for their goals and to push themselves to be the best person they can be.  With an average of 96%, Jackie is one of CIC's top graduates and was voted this year's Valedictorian.
In attendance were parents who flew from across world to join in the celebration of their son or daughter's achievement in graduating from high school.  Parents and friends cheered on in the crowd when names were called out to receive their diplomas.  As the students walked down the main aisle for their photos, some of the parents were there waiting to embrace them.  This is the moment parents have been waiting for.  The hope that their son/daughter would graduate and be admitted to some of Canada's top universities.  Rest assured their hope was realized, as they shed more hope onto the next great adventure that awaits their son/daughter in their post-secondary education.