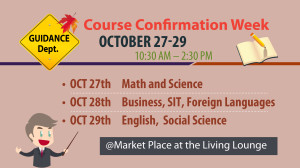 Columbia International College's Guidance Department is preparing students for their upcoming winter semester by holding course confirmation information sessions throughout October and the first week of November.
Guidance Counsellors will visit each homeroom class between October 27th to 29th to ensure students have the opportunity to ask questions about courses and verify prerequisites for university programs.
Students will also get a chance to ask department specific questions throughout the week as there will also be a Course Fair in the Living Wall Lounge during all three lunch periods (from 10:30am to 2:30pm);
October 27: Math and Science
October 28: Business, SIT and Foreign Languages
October 29: English and Social Science
October 30: Guidance Office Open House. Guidance Counsellors will be available to answer questions, provide information and insight to future courses and career choices.  
The Fair allows both new and returning students to learn more about the academic programs available to them in the upcoming semester and give them a change to speak with teachers about the course and workload.
Career Planning Workshops
The Guidance Department will also be holding a series of career planning workshops in the first week of November. Each workshop will be 30 minutes and will discuss career paths of various disciplines.
November 2: Engineering and Science
November 3: Social Science and Humanities
November 4: Business and Math
 Students must sign up with the Guidance Department in advance if they are interested in attending.