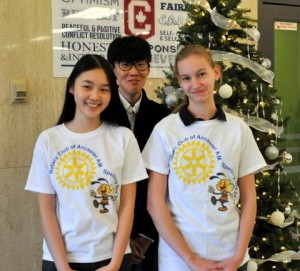 Three Junior Middle School (JMS)  students proudly represented Columbia at a local spelling bee competition held last month.
Sasha Li Khen Ir, Elizaveta Golova, and Kimberly Lai Lie Xi traveled to Mohawk College on Nov. 29 to participate in the Rotary Club of Ancaster Spelling Bee. Over 40 participants in grades 7 and 8 from private and public schools in Hamilton competed against one another.
Our JMS students were chosen as participants after they came in first in their classes from a mini-spelling bee held at Columbia a few weeks before the competition. They were challenged to spell a number of difficult words but persevered and made it to the fourth round!
The spelling bee was a great learning and educational experience for JMS students. Along with promoting literacy and building vocabulary, it improved students' confidence, public speaking skills and study habits. Columbia would like to congratulate all those who participated on their determination and hard work during the competition.