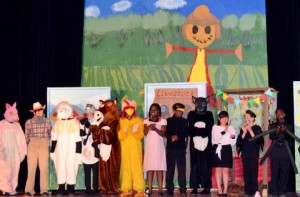 Columbia's Junior Middle School (JMS) students shined on the Ainsliewood stage yesterday as they performed Charlie's Web, a rendition of popular children's novel Charlotte's Web by author E.B. White.
Directed by Mrs. Willison and Mr. Lawlis, and produced by Mrs. Konior, the story about friendship and loyalty was well-received and showcased the diverse talent of JMS students.
Cast of Characters
JMS students worked extremely hard, especially in the last few weeks, learning their lines and assisting with the stage design.
Students took on the following roles:
Mwombeki Rugalema – Charlie the Spider
Joshua Onuotu – Wilbur the Pig
Nikolay Avilov – Templeton the Rat
Aledandr Kim – Sammy the Sheep
Adaolisa Azike – Gussy the Chicken
Elizaveta Golova – Betsy the Cow
Kaiqi (Lucy) Cheng – Ike the Horse
Daye Fubara – Brooks the Crow
Elizaveta Getmanskaya – Owen the Crow
Maryam Yusuf-Aliyu – Fern the Girl
Alejandro Galan Medina – Farmer
Admission to the show was free, however students and guests were asked to donate $2 to support of the JMS Nicaragua fund.
Thank you to all teachers and staff members who were involved in this year's performance. A special thank you to the four musicians – Clara, Chris, Kelly and Liew Tze – for being a part of the show.