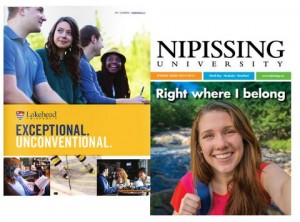 Columbia continues to welcome top universities from across Canada. Recently, representatives from Lakehead University and Nipissing University stopped by the Ainsliewood campus to hold information sessions for students.
Lakehead University
Exceptional. Unconventional.
Lakehead University is one of many well-recognized Canadian institutions. Known for its research excellence, quality education and innovative teachings, the University provides students with unique learning opportunities. It places great emphasis on providing students with a "learner-centred experience" and has endless resources to foster student success.
Fast Facts
• Campuses in Thunder Bay and Orillia
• Home to 9 Canada Research Chairs
• Hosts world-renowned Paleo-DNA Laboratory and a Biorefining Research Institute
• Small student to faculty ratio; 17:1 at the Orillia campus; 19:1 at the Thunder Bay campus
• Ranks among Ontario's top 10 in scholarships and bursaries
• Offers 57 degree programs across 10 faculties
Nipissing University
One student at a time.
Nipissing University is primarily an undergraduate university that is committed to delivering a student-focused and innovative teaching experience. Its small classes and supportive faculty help students earn a quality education.
Fast Facts
• Earned a "reputation for excellence in teacher education, arts, science and professional programs"
• 3 campuses located in Brantford, Muskoka and North Bay
• Known for its unique campus atmosphere, student/faculty interaction, and work-play balance
• Recognized for dynamic career preparation and Information Technology programs
• Undergraduate, Graduate, Diploma and Professional programs available