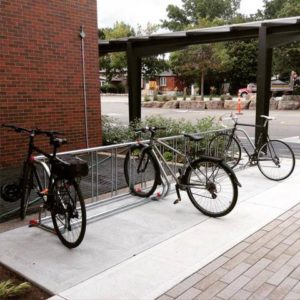 A small addition has been made to the Ainsliewood building – a new bike rack.
Installed earlier this week, the new bike rack is now located at the front of the Ainsliewood building. The new location is conveniently situated in front of the Campus Safety Office for the safety and convenience of Columbia's students and staff.
Over the next few weeks, new bike racks will also be installed at the Pine Hall Boys and Pine Hall Girls residences, as well as at the new Cedar campus.
Bicycle safety tips 
Those who ride their bikes to school are reminded to follow these important safety tips:
General tips
• Have lights installed on your bike – front and back- and make sure they are turned on during night riding
• Wear reflective clothing at ALL times which allows you to be visible in day or night
• Use proper hand signals when riding at ALL times
Riding your bike
When riding your bike, remember to:
• Ride on the far right side of any roadway (riding on sidewalks is illegal in Hamilton)
• Wear a bicycle helmet (by law anyone under 18 is required to wear a helmet).
• Obey traffic rules
• Watch for pedestrians and vehicles
• Ring your bell when passing pedestrian or other cyclists.
Bike Security
• Lock your bike to one of the bike racks located at the front of a CIC building
• Secure your bike with a quality lock such as a U-Lock
Students are encouraged to speak to a member of Campus Safety if they have any issues or concerns.