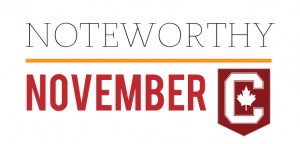 November is a busy month at Columbia with events and activities scheduled for every area of student interest. Students are encouraged to participate in all activities to develop their skills, meet new friends, and maintain a balanced education.
November Events
1: Leadership Retreat, Road 2 Hope Marathon (Community Service event)
3: University of New Brunswick visit, Badminton tournament
4: Trent University visit, Hong Kong Application Workshop
4-6: Flu Clinic
5: Girls Staff vs. Students Basketball game
5-7: Health Action Team Lunchtime events
6: JMS Spelling Bee, Staff vs. Students Ping Pong game
7: Mapleview shopping trip
8: Relay for Life
10: University of Waterloo® visit
11: Remembrance Day, University of Toronto – Rotman School of Management, Engineering, Arts & Science visit
11-13: Flu Clinic
13: Literacy Day, Algoma University visit
17: University of Ottawa visit, OCAD University visit
14: Winter Show
15: Wesley Urban Ministries (Community Service event), NBA Game (Toronto Raptors vs. Utah Jazz)
16: Hannukah Hustle (Community Service event)
19: Queen's University visit
20: International Cuisine Series – Africa, University of Guelph visit
21: December Graduation Dinner
23: Santa Claus Parade (Community Service event)
24: Staff vs. Students Basketball Game
25: UOIT visit
26: Awards Ceremony
28: Wilfrid Laurier University visit, Coffee House (Residence Event)
29: Laser Tag trip
To learn more about events and activities happening this month, contact a member of Student Development in room S244. Visit the University Placement Office for information relating to the upcoming university visits.