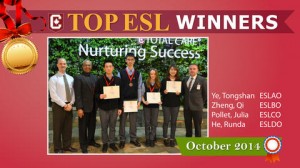 Yesterday, four top-achieving ESL students were recognized for receiving the highest mark in their respective classes.
Each student was presented with a medal of distinction and certificate of achievement for their accomplishment in a small ceremony held in the Living Wall Lounge. Mr. Galea, ESL Department Head, Mr. Rambarran, Principal, and Mr. Putt, Head of Senior School were all in attendance to congratulate each student.
October's Winners
ESLAO – Ye, Tongshan
ESLBO – Zheng, Qi
ESLCO – Pollet, Julia
ESLDO – He, Runda
Fostering Success
Columbia strives to instill good work values in its students to help foster their academic and personal success. Teachers, support staff and subject tutors are all available to help students overcome obstacles and reach their full potential.