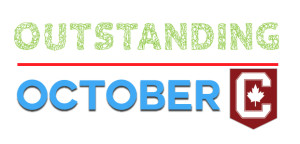 October is filled with great opportunities for students to engage in diverse academic and extracurricular activities here at Columbia. From Spirit Week to University visits to community service events, students will have endless opportunities to explore new interests and become active members of the student body.
OCTOBER EVENTS
1: WeDay Toronto, Wilfrid Laurier University visit
2: Huron University College visit, CFL Game – Hamilton Tiger-Cats vs. Calgary Stampeders
3: Meals on Wheels (Community Service Event), FIFA PS4 tournament
4: CIBC Run for the Cure (Community Service Event)
5-9: Spirit Week
5: Laurentian University visit
7: Games Day
8: International Cuisine Series – China
9-12: Duke of Edinburghtrip to Bark Lake
9: Movie Night (Hotel Transylvania),
10: Movie Night (Hotel Transylvania 2), Hamilton Victory Gardens (Community Service Event)
10: University of Toronto visit, Trip to Mapleview mall
12: Thanksgiving Holiday
13-14: Orientation
14: Ryerson University visit
17: Halloween Haunt at Canada's Wonderland
19: University of New Brunswick visit, Queen's University visit
21: UBC visit
23: Mapleview Mall shopping trip
24: Niagara Falls trip for new students, Volunteering at Galcom, Corn Maze
29: Halloween Dance
30: Costume Contest, Pumpkin Carving Competition, Pine Hall Haunted House
31: Happy Halloween! – Volunteering at Galcom, Scary Movie Night
To learn more about October's events, contact a member of Student Development in Room S244. Stop by the University Placement Office for more information on the upcoming university visits.