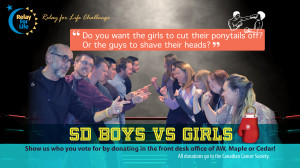 Relay for Life is returning to Columbia!
Our Student Development (SD) Department is challenging one another to an exciting and fun Relay for Life event in coordination with the Canadian Cancer Society.
On November 14th, the male or female SD members will cut off their hair to raise money for, and to support, cancer research.
SD is letting the school community decide who they want to win the challenge by donating to the jars located at the reception desks of our Cedar, Ainsliewood, and Maple buildings. If the boys win, they will shave their heads. If the girls win, they will cut off their ponytails. The team with the MOST donations will cut their hair. Donations will be accepted until November 12th.
Relay for Life
Relay for Life is a 12 hour, pledge-based event where students, teachers, staff, family and friends form teams and take turns walking about a track while enjoying fun activities and entertainment. This year's relay will take place on Friday, November 13-14.
To find out more about the Canadian Cancer Society's Relay for Life visit their website.