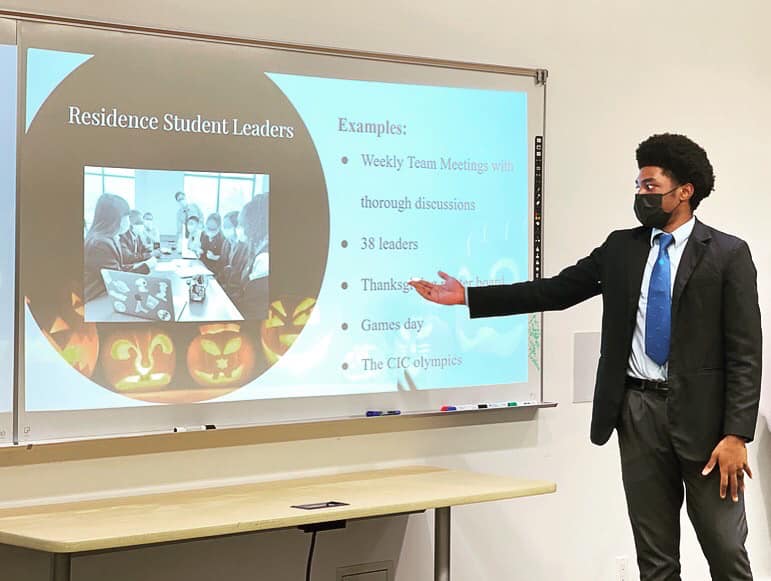 The Haunted House at Cedar Building was an immense success with more than 300 students attending! Thanks to our Residence Student Leaders for planning such a fun event which included a scary walk-through, costume contest, trick or treating, and games. 
The Residence Leaders committee presented their proposal to CIC's Administrators and answered questions related to the event logistics and other aspects until their plan was finally approved. 
Hands-on Leadership and Project Management Skills
The group of Residence Student Leaders were tasked with brainstorming to come up with a robust proposal for the Halloween celebrations at CIC. Through hands-on event planning and coordination, the student leaders have learned important project management skills including creating and presenting a proposal for an event, budgeting, procurement, managing health and safety considerations, and working collaboratively to create fun and inclusive events in residence. 
Last Saturday, October 30th the team delivered an impressive, well organized, fun and scary event for their fellow students' enjoyment. The Haunted House was part of many Halloween Activities at CIC which included a costume contest, pumpkin decorating, a Halloween Dance and many more.
If you are interested in joining the Residence Student Leaders team and playing a part in contributing to the school community, please visit the Residence department! 
Halloween Events at CIC
On Friday, October 29 SLD and the Student Leadership group hosted a school wide Staff and Students Costume Contest, Pumpkin Decoration contest and the extremely popular Halloween Dance, after school. More than 300 students attended the dance!